Top Honoree, Private Companies (revenue $100 million or less)
Few executives had a busier 2010 than Brian D. Morris, CFO of St. Vincent Medical Group Inc. The multi-specialty company he helps oversee serves as a model for physician-hospital integration, employing 145 physicians and 700 associates at eight major central Indiana practice sites, with another 20 outreach facilities and clinics around the state.
But here's the kicker. SVMG, created by integrating Care Group LLC and St. Vincent Health into one unit, didn't even officially exist until July 1, 2010. "The transaction involved building a consensus among 140 private physicians," Morris said. As if that job—tantamount to herding cats—wasn't daunting enough, there was also a long list of other hoops to jump through, including (but by no means confined to) transitioning to new payroll and benefit plans; preparing a new company budget; building a new revenue database; and making appropriate banking arrangements.
"Because initial discussions with St. Vincent Health did not begin until September of 2009, it was quite an achievement from both sides to consummate a deal of this magnitude in a little over nine months," he said.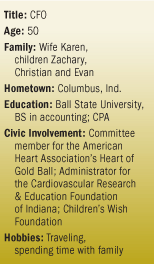 Besides possessing a gift for understatement, Morris also brings a great deal of talent and commitment to his position. Given the economic climate, he needs them. Managing both SVMG and one of its precursor entities, Care Group, he weathered both the economic downturn and the uncertainties surrounding health care regulation without laying off a single employee while growing revenue and patient volume.
Morris is used to operating in such a less-than-benign environment. It's the nature of the health care industry these days. "Because so much of our revenue is derived from government programs, we are inextricably tied to annual legislation that comes out of Washington," he said. "For example, because of congressional delays in recent years, I have not been able to present final annual budgets to our board before the year begins because I'm waiting for Congress to determine how we're going to get paid for that year."
There's plenty of potential for things to get worse—or rather, more complicated and challenging. Morris says that the third-party payer pool has radically consolidated in recent years, creating a small group of ever-more-powerful entities that are increasingly stingy about what they'll offer for services. That, combined with government pressure to reduce payments, creates a "unique" industry environment in which Morris must cover his inflationary expenses (rent, salaries, supplies, and pretty much everything else) using a decidedly deflationary revenue stream.
Morris expects more of the same—in the form of additional cuts to physician reimbursement by the Medicare system—in 2011. But he sees a silver lining for his new entity, because physicians and medical groups looking for economies of scale and access to capital may gravitate to SVMG.
The new health care reform legislation's desire to integrate physicians with hospitals and form accountable care organizations could have a similar effect. "For these reasons, I predict that we will grow through the addition of new physicians and groups in various specialties," Morris said. "Our capital appetite will determine the extent of our growth."
Though he doesn't predict that 2011 will, in general, offer much to write home about (low inflation, a slight drop in unemployment, near-zero interest rates, a GDP of 2 percent), he thinks his firm's solid financial practices will see it through. "When we have historically been challenged from a top-line revenue approach, we have looked at creative equity positions for our company and attempted to diversify our revenue stream by adding new lines of business," Morris said.
If his past record on this front is any gauge, then growth is on the way. During his 12 years with Care Group and SVMG he's contributed to the planning and implementation of several new ventures, including the Indiana Heart Institute, Gateway Electronic Medical Management Systems and the St. Vincent Heart Center of Indiana.
It was the Heart Center, a joint venture between the Care Group and St. Vincent Health, and other combined projects that provided the genesis for the formation of SVMG. "Post-transaction, we also successfully produced a set of financial statements within five days after our first month-end for the new entity," Morris said. "The successful management of this transaction occurred while we were still managing the former company during the first half of the year."•
 
Please enable JavaScript to view this content.