Honoree, Private Companies (revenue $100 million or less)
Steve Alesia's title at Independent Concrete Pipe Co. is vice president and CFO, but the management and staff of this privately held Indianapolis firm could just as easily call him "savior."
As the company's name implies, ICPC manufactures reinforced concrete sewer pipe for storm and sanitary applications, plus a vast assortment of other big, heavy, concrete-intensive products. With nine facilities in five states, the family-owned enterprise is the fourth largest reinforced concrete pipe maker in the nation.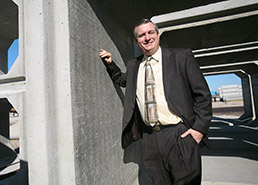 IBJ Photo/ Perry Reichanadter
The company's top clients are highway contractors and site development contractors. So it isn't surprising that when the economy cratered in 2008, ICPC's order book dried up quickly. In January of 2009 the company's bank asked it to obtain its financing elsewhere. Alesia, who joined ICPC in 2007, faced the unenviable task of finding new financing for an old-school manufacturer during the worst credit market in living memory.
In May, after months of negotiation, the company entered into a conventional financing arrangement with a new bank. The move was pivotal, because the company had faced intense pressure from its former lender to enter into a far less advantageous arrangement. The reduction in costs between the company's first refinancing offer and the one it eventually accepted amounted to $800,000 in the first year alone.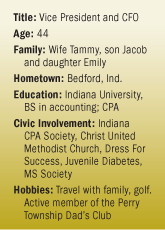 Now Alesia can focus on other issues. "Currently, our biggest challenge is managing production efficiently while producing optimal inventory levels." Managing medical insurance costs during 2011 offers an additional headache.
Logistics is another brain teaser. When it comes to heavy industry, it doesn't get much heavier than concrete pipes. The company's product line presents some unique challenges and constraints. "Due to the weight of our product, it cannot ship profitably more than 100 miles from our plants," Alesia said. "As a result, we cannot share product between our plants if one needs a certain size that another has in excess."
Formerly CFO at Indianapolis-based machine tool manufacturer Hurco, Alesia took his current, lower-profile position in order to spend more time with his family and less time traveling for business. And the fact that he no longer spends a fair portion of his time preparing SEC filings helps, too. "I spend my free time with my wife and kids," he said. Alesia regularly plays golf with his son. He also collects baseball cards, and owns every Topps card issued from 1972 to 1992.
Besides helping to save ICPC, Alesia has also labored to make it a more financially sophisticated entity—one that bases its decisions on hard data rather than intuition. During the baddest of the bad days the firm trimmed its payroll for the first time in its 98-year history and cut operating expenses.
"I do not see significant improvements in private construction in 2011, which does not bode well for our company," Alesia said. "However, the amount of government spending on infrastructure projects should allow us to be profitable."•
Please enable JavaScript to view this content.