Top Honoree, Private Companies (revenue over $100 million)
The genesis of Allison Transmission sounds like a recipe for disaster. Spun off from General Motors in August of 2007, it became an independent entity just in time for the start of the worst recession in decades.
That perfect storm could have spelled disaster for its 2,900 employees, 1,550 worldwide distributors, and global facilities scattered everywhere from China to Brazil to India. The fact that it didn't roll over is largely due to the Herculean efforts of executive vice president and CFO David Graziosi.
"Under Graziosi's leadership as CFO, Allison Transmission has successfully separated from GM, transformed its business operations, increased its market share, seen its revenue increase, created a financial infrastructure to support a $2 billion-sales-per-year multinational corporation and grown a commercial vehicle-related business during the worst economic climate since the Great Depression," said Allison exec Melissa Sauer.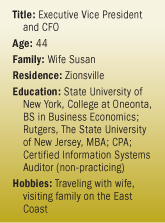 Graziosi assumed his position in November of 2007, three months after GM sold the company to the Carlyle Group and Onyx Corp. He faced a monstrous "to-do" list, including building a stand-alone financial organization, plus establishing myriad processes and infrastructure from scratch. For example, even though Allison employed thousands worldwide, it lacked a payroll department. Graziosi and his team took care of that little omission, and tackled others as well. Among a great many other things, he put together or oversaw the implementation of a treasury function and a tax department; repatriation of the accounts receivable and accounts payable processes; and creation of a financial reporting function, including debt/investor relations, where none had existed prior to 2007.
By establishing strong financial and accounting processes, Graziosi and his team proactively identified operating and financial problems far in advance, enabling management to address them in an orderly manner.
He got things shipshape just in time for an economic tsunami. But when the Great Recession hit, something unusual—perhaps even unprecedented—happened. The downturn left many automotive companies grinding metal. Yet Allison not only survived during the past three years, it expanded. Stronger today than when it entered the downturn, the company continues to meet or exceed its debt obligations, and it's actually improved its credit ratings outlook. This was accomplished by, to put it simply, hoping for the best but planning for the worst.
"The cost reduction and containment decisions made by Allison in late 2008 and early 2009 assumed conditions would be more challenging than external forecasts indicated," Graziosi said. "Allison maintained high levels of operating flexibility to ensure customer requirements could be met and its brand promise fulfilled while remaining committed to the company's long term investment/return objectives. The key is that you should plan for worse conditions and maintain the flexibility to execute for better conditions."
His technical skills, strategic planning and critical thinking helped position Allison as a premier manufacturer of hybrid propulsion systems and commercial-duty, fully automatic transmissions for civil and military applications. While retooling the product line, Graziosi and his team also retooled operations to properly support a $2 billion-a-year multinational company. That focus on streamlining internal practices and corporate policies proved critical to survival. For instance, much of the company's business is tied to the medium-duty truck market in the NAFTA area—not exactly the firmest of markets.
"Given this situation Allison is required to maintain high levels of operating flexibility with financial discipline and commitment to its long term investment and return objectives," Graziosi said. "Despite these challenges Allison's employees and management have worked diligently to support its customers and prudently control the capital structure."
In other words, hoping for the best but planning for the worst.•
Please enable JavaScript to view this content.