Honoree, Private Companies (revenue over $100 million)
The Federal Home Loan Bank of Indianapolis survived the Great Recession by sticking to some old values. Very old values.
"We weathered the downturn by focusing on our original mission, which was set forth in 1932, to provide access to housing finance and liquidity for our membership," said FHLBI Executive Vice President, COO and CFO Cindy Konich. "Our objective is to serve members in various economic cycles, and we did just that. We were established so that we could be flexible and reliable no matter the economic climate."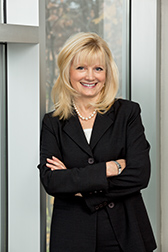 Photo Courtesy Federal Home Loan Bank of Indianapolis
In short, the FHLBI is definitely, emphatically your father's banking model. One of 12 regional financial conglomerations making up the Federal Home Loan Bank System, it's a government-sponsored enterprise created by Congress to ensure access to low-cost funding for its member financial institutions. FHL banks are privately capitalized and funded, receiving no Congressional appropriations. With $45 billion in assets, the FHLBI is owned by its 417 financial institution members, which include commercial banks, credit unions, insurance companies, and savings banks in Indiana and Michigan.
"These members are also our shareholders, which essentially makes the FHLBI a cooperative," Konich said. "We are sometimes referred to as a 'bank for banks,' providing liquidity to our members through our lending products. We must structure our products in a way that our members receive desirable terms and conditions with competitive pricing."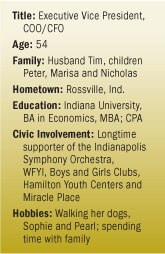 She's been pursuing this strategy for decades, having joined FHLBI as a cash manager in 1984. She worked her way up, earning (among other positions) the rank of vice president, treasury manager in 1994; first vice president, treasurer in 2005; and her current title in 2010. She handles a wide spectrum of responsibilities, including strategic planning, treasury risk analytics, systems infrastructure and operations, software development and business continuity planning.
One of her proudest achievements is the FHLBI's Affordable Housing Program. The program, which Konich helped to establish two decades ago, provides financing for low-cost housing. "FHLBI dedicates 10 percent of its annual net income to its Affordable Housing Program," she said. "I have been proud over my career to be involved at the inception of the AHP program 20 years ago. Over that time, the bank's strong earnings have provided a total of $150 million to the program in Indiana and Michigan." Nationally, FHL banks provided about $4 billion nationwide, creating some 670,000 affordable homes.
Not surprisingly, being a bank situated in the Rust Belt presents some unique challenges—especially since roughly half of FHLBI's shareholder institutions are located in moribund Michigan.
One of her most important jobs these days is keeping up with whatever financial, regulatory or legislative curveballs might come her way. "We predict, prepare for and react to the trends in the capital marketplace," she said.
Konich doesn't expect the good times to return quickly, but she's confident her bank can survive and thrive, no matter the economy. "All economic cycles present as many opportunities as they do pitfalls," she says. "We predict that we will take advantage of these opportunities, identify them to our members and serve them according to the current economic cycle. With our expertise, leadership, products and services, we will be poised to excel as the economy moves ahead in whatever fashion it does, for the benefit of our member stakeholders."•
Please enable JavaScript to view this content.