Honoree, Private Companies (revenue over $100 million)
For many companies, particularly manufacturers, 2010 was a year to assess the recession-inflicted damage and take stock. But for Harlan Bakeries, it was a time to crank up the ovens and make more bagels. And pies. And cakes.
The efforts of executive vice president and CFO John P. Menne helped the Avon-based company maintain its position as one of the country's fastest-growing commercial bakeries. Founded in 1991 by brothers Hugh and Doug Harlan, it's an international wholesale supplier and distributor of baked goods for in-store bakeries and private label brands.
IBJ Photo/ Perry Reichanadter
"The biggest challenge in 2010 was to keep costs in line as the company gained some momentum," Menne said. "In conjunction with little tolerance from the consumer to pay higher prices for goods and services."
Cost management has been Menne's mantra. A 20-year business veteran with more than two decades of financial expertise, he signed on with Harlan in 2007. He helped the company's financial team post more than 20 percent revenue growth during the past two years, a glittering result he expects to emulate in 2011. His duties include supervising financial activities of the corporation's United States and Canadian operations, management of contract manufacturing relationships, acquisition integration and reorganization of Harlan's accounting department.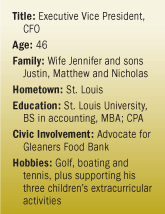 Menne has attacked direct expenses and indirect costs over the past two years. He's reduced inventory levels by 30 percent, idled underutilized capacity and streamlined the workforce. He also massaged working capital management and financing to assure adequate liquidity to support continued expansion. "The recent economic downturn was tough on everyone, personally and professionally," Menne said. "One key learning element is to stay very close to the cash. Diligent cash management and liquidity have been keys to success for Harlan Bakeries in this challenging time."
Part of the challenge is dealing with the competition. Instead of swimming with sharks, Harlan finds itself battling panicked rivals who'll do pretty much anything to avoid drowning in red ink—including pumping up their order books by working for unsustainable, fire sale rates. Purchasing is also a major challenge, because prices for flour and sugar (of which Harlan obviously needs plenty) became highly volatile over the last three years, primarily due to speculative funds entering the markets.
"We've had to react by monitoring the fundamentals of the markets on a daily basis and taking actions to mitigate the risk associated with that volatility," Menne said.
He thinks that 2011 will be an improvement over 2010—at least from Harlan's perspective. Commodities prices may still be crazy and consumers may still refuse price increases, but a thaw in the lending environment and inflows of investment cash will ease operations, allowing Harlan to continue its yeasty rise.•
Please enable JavaScript to view this content.