Honoree, Public Companies
When it comes to dealing with emerging technology, few top execs can match the breadth of experience enjoyed by Stephen R. Head. The CFO, vice president of finance, secretary and treasurer of Indianapolis-based communications software provider Interactive Intelligence has served as CFO of three Indiana software companies, guiding two of them to initial public offerings, including his current employer, which enjoyed one of the most successful IPOs in Indiana history.
Interactive Intelligence is a global provider of unified business solutions for phone center automation, enterprise IP telephony, and business process automation. Founded in 1994, the company employs approximately 600 and serves some 3,000 clients worldwide.
 
IBJ Photo/ Perry Reichanadter
Though the firm continues to expand, the gains don't come easily. The company's principal market is contact center technology, providing "interaction management software" that handles telephony, e-mail, web chat and text messaging. The problem is that it holds a mid single-digit market share in a pool filled with whales like Cisco and Avaya.
"Our challenge is to improve market awareness of Interactive Intelligence and its solutions, so that we are invited into sales cycles and can demonstrate the uniqueness and value of our company's unified business communications solutions," Head said.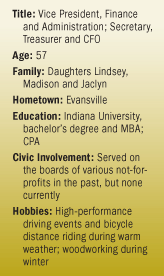 His employer may not be a minnow for much longer. Since he joined Interactive Intelligence in 2003, company revenue has ballooned from $51 million that year to $131 million last year. The company has been profitable for six consecutive years, and cash and investments during the same time frame have increased from $12 million to more than $60 million. The per-share stock price has increased from $3 when Head joined the firm to more than $27 last month.
His deep understanding of the company's products puts him in demand with customers, shareholders and upper management. Head not only oversees the Interactive Intelligence finance department, but also serves as a de-facto one-man investor relations team. He presents at investor conferences, conducts road shows, manages interactions with financial analysts, and provides the "face" of the firm to the investment community.
Such handholding is important, given the still-tenuous state of the economy. So is keeping a close eye on expenses and accounts receivable. "Revenue uncertainty makes managing expenses in relation to reported revenues more challenging," Head said. "We have done well at balancing the economic and revenue uncertainty, while adding staff and still increasing earnings. We have also closed on an acquisition that will provide more revenue opportunities and provide a better return than our cash and investments currently yield."
Head says Interactive Intelligence was affected by the recent downturn earlier than firms in some other industries. He could feel things slowing down at the end of 2007, and in 2008 revenues fell below expectations, necessitating a small staffing reduction near the end of that year. The company managed to increase revenue (though not profits) in 2008, and bumped up both categories in 2009. Interactive Intelligence also kept developing new products.
"During the slowdown from 2008 to 2009 we continued to invest in marketing and product development," Head said. "That is something we learned from 2001 to 2003 when technology spending slowed. During that period we continued to invest in our solutions and were in a much stronger position when technology buying picked up. Similarly, our investments over the past couple of years are again paying off as the economy has stabilized and companies are now more willing to invest in technology like ours that has a strong return on investment."
As for the immediate future, Head thinks the economy will muddle along, outperforming the abysmal 2008-'09 time frame, but not approaching the more robust years 2006-'07. Yet there will be plenty of opportunities for firms that help their customers save money and operate more efficiently—something Interactive Intelligence's call center products are designed to do.
"We expect that companies will continue to invest in technology that has a proven return on investment," Head said. "There is also the continued uptake of voice-over-IP, which benefits Interactive Intelligence because our solutions take advantage of VoIP's ability to reduce operational costs, among other benefits. Given these factors, we expect continued revenue growth."•
Please enable JavaScript to view this content.