Honoree, Not-For-Profit
Like most not-for-profits, the Lumina Foundation for Education was hit hard by the recent economic downturn. But while the agency was forced, of necessity, to hunker down a bit to weather the storm, it hasn't backed away from its ambitious goals—goals whose financial execution relies on the continued guidance of treasurer and CFO J. David Maas.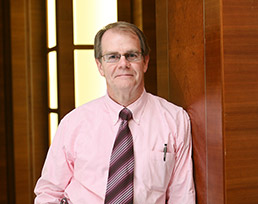 IBJ Photo/ Perry Reichanadter
That's a good thing, because Lumina's plans for Indiana (and the nation) could be instrumental in giving Americans the educational tools they'll need to succeed in the 21st century.
Lumina's mission is to increase access to and success in post-high school education, especially among adults, first-generation college students, low-income students and students of color. In 2009 alone it disbursed $55.6 million in grants, many directed toward traditionally underserved students.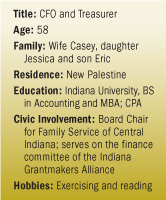 The organization was able to keep its eye on the education ball—even during the Great Recession—thanks in large part to Maas' sound stewardship of its financials. Especially its large endowment. Lumina was founded in 2000 when USA Group Inc., the nation's largest guarantor and administrator of student loans, sold to Sallie Mae. The proceeds of the sale established the USA Group Foundation (renamed the Lumina Foundation for Education shortly thereafter), endowing it overnight with a breathtaking $770 million.
The recession knocked the wind out of Lumina's assets. In December of 2007 assets totaled more than $1.4 billion. By December of 2008 that total plunged to approximately $990 million, before recovering to roughly$1 billion by December of 2009.
At its lowest ebb, Lumina's portfolio shed 40 percent of its value. Throughout the precipitous fall, Maas stuck to his investment strategy, which helped the foundation maintain liquidity and stability at a time when other not-for-profits sold assets at fire-sale prices or borrowed money to meet day-to-day needs. "While we did reposition some investments, we didn't panic and cash out," he said.
The recession wasn't the only financial turmoil Maas faced. In 2009 Lumina's chief investment officer resigned, prompting a thorough reassessment of the portfolio's management.
Maas' responsibilities include, among many other things, financial analysis, tax planning and preparation, human resources and facilities services. He even serves as program officer for several Lumina grants, giving him the opportunity to work "in the trenches."•
Please enable JavaScript to view this content.