Honoree, Not-For-Profit
Is executive vice president and CFO of the Children's Bureau, Susan R. Meyer walks a delicate line between wishing the agency could do all the things it wants to do and making sure it only tackles the things it can do.
IBJ Photo/ Perry Reichanadter
"I think one of the challenges that is unique to our industry is needing to realize we cannot serve all clients or offer all the programs that continue to negatively impact the bottom line," Meyer said. "There are core programs we will always offer that lose money, but if too many of our programs did this we would jeopardize all of our services. It's a delicate balancing act between compassion and realism."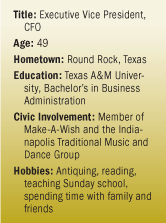 Considering what the Children's Bureau already does, she needn't beat herself up too much about that. The private, not-for-profit child and family services agency is more than 150 years old and offers a roster of services too extensive to list. They include adoption and foster care services, runaway prevention, and family preservation. Yet Meyer feels any reductions keenly because in addition to her number crunching duties, she is also personally involved with every single Children's Bureau outreach program and fundraiser. She's close not just to her staff, but to the people receiving the agency's services.
Her intimate connection with the organization made its recent recession-driven belt-tightening an even harder task. "We had to make some tough decisions concerning cutbacks, including across-the-board salary reductions and some program and location changes," Meyer said. "During that process it became even more apparent that when tough decisions have to be made, the sooner they are made, the better." It's also critical, she believes, to come up with a comprehensive downsizing plan and implement the changes all at once, rather than keep the staff on edge, waiting for the next shoe to drop.
Meyer has held her position for a decade, and is responsible for the agency's finance, human resources and MIS departments. She also evaluates and directs real estate projects, handles facility issues for 29 sites and reviews contracts for services.
Her biggest challenges are keeping pace with the ever-intensifying blizzard of government reporting requirements and making fewer dollars cover more services. The slow economy will pose more challenges in the future, primarily in the areas of funding and health insurance. And since the agency's largest expense—as with most companies—is its employees, Meyer must focus on retaining the Bureau's best people while performing her economic balancing act.
Like any good CFO she works up budgets and does financial projections, but she leaves the future's fuzzier aspects—such as whether things will "get better"—to others. "I believe that life is what happens when you are busy making other plans," she says. "When working in the nonprofit arena, you cannot focus too far in the future because it is too uncertain to predict."•
Please enable JavaScript to view this content.