Top Honoree, Government
Indianapolis International Airport sits on the city's west side, but during the economic downturn it rested squarely between a rock and a hard place. It completed a $1.1 billion construction project, including a vast new main terminal, just in time to take the worst recession in decades squarely in the teeth. Four of the airport's major carriers filed for bankruptcy, along with the facility's largest passenger carrier (and hometown airline) American Trans Air.
"Passenger levels and aircraft landed weights had fallen dramatically and were nowhere close to the levels projected at the time the project was approved in 2001," said Marsha Stone, the IAA's CFO. "However we still completed and opened the project on time and on budget, and are able to demonstrate charges to airlines at the same or lower levels than anticipated back in 2001 in the upcoming five-year forecast period."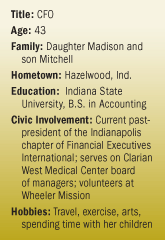 That's just one of the tricks Stone has accomplished for the airport during her tenure. Just as it's hard to overestimate the airport's economic impact on its environs, it's difficult to overestimate Stone's impact on its operations and financial health. It was she who led the financing process that made the new terminal possible, securing a letter of intent from the FAA to fund a portion of the project, then lining up additional cash through six municipal bond transactions from 2003 to 2010. All that number crunching created a high-profile new facility for welcoming travelers to the city.
Her most recent accomplishment was leading airline use agreement negotiations that have been called a "win-win" for both airlines and the airport, and serve as a template for similar agreements in other regions. Countering negative stereotypes about high Indy operating costs, the agreement secured a projected 20 percent reduction in airline charges over its term, saving airlines some $300 million in operating costs.
The agreement gives the city a leg up over other municipalities, creating a powerful incentive for carriers to increase cargo and passenger traffic here over the next five years. "According to airline executives, the new lease in Indianapolis is precedent-setting and changes the landscape for airline use agreements at other airports in the U.S.," Stone said.
It also met the IAA board's objective of becoming more cost competitive, while maintaining sufficient liquidity to accomplish its upcoming five-year capital program with no new debt, plus a reduction in current debt.
While some in her position might not be able to see the airport for the planes, Stone has made a concerted effort to monitor and manage non-flight-related revenue streams. During the recession, for instance, she took great pains to help hard-hit airport concessionaires keep their doors open. Thus, at a time when some major airports were filled with empty storefronts, IAA lost only a single merchant. And even that one hopes to reopen in 2011.
Currently she leads the IAA's Land Use & Development Study, which will set the course for airport development for the next 30 years. Farther afield, she's aviation co-chair on the 2012 Indianapolis Super Bowl Host Committee. And in 2010 she was elected to chair the Airports Council International-North America finance committee.
Perhaps most importantly, Stone's presence in Indianapolis has cemented the IAA's position as a national leader. Greg Principato, president of Airports Council International, describes her as, "not only one of the leading airport CFOs in the country, she is one of the airport industry's most important leaders, period."•
Please enable JavaScript to view this content.