Honoree, Government

It's been a tiring, emotionally draining year for Rebecca Dixon, CFO and treasurer of the Indianapolis-Marion County Public Library. Faced with declining tax funds and unrelenting demands for services, the library system was earlier this year contemplating closing some of its 22 branches, just to keep its head above water. However, Dixon found ways to stretch the system's roughly $30 million budget, helping to avoid outright closures. But not without some draconian belt-tightening.
"Unfortunately we found it necessary to reduce our hours of service and staff to weather the economic downturn," Dixon said. "We have learned to do more with less and to be creative in finding ways to reduce costs and increase revenue."
IBJ Photo/ Perry Reichanadter
It's safe to say that no one's been as creative along those lines as Dixon. It's understandable, given what she's up against. In 2010 the IMCPL's budget was sucker punched by a combination of property tax caps and a drop in tax revenue in general. Things got so bad that the agency contemplated shuttering as many as six branches by 2012. When the proposal produced a public outcry, Dixon, who's worked at the library for five years, sharpened her pencil and developed a Plan B. Among a great many other things, she helped reorganize the administrative staff, and saw through cuts in the system's materials budget, utilities and other areas. Most unsavory of all, the IMCPL had to let go 37 staffers in order to close an estimated $4 million revenue shortfall in 2011.
"With the economic situation she has managed to keep the library operating with less money than could have been thought possible just a few years ago," said IMCPL contract administrator Pam-ela Hammersley. "Her dedication to the library and its employees as well as her integrity and honesty has been a beacon to the employees facing these difficult times."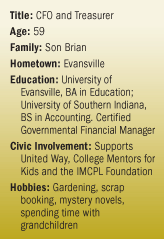 Not that the tough times are over. Indeed, far from it. The IMCPL avoided closing branches, but only by reducing its hours system-wide by 26 percent. And even these drastic steps are viewed as stop-gap solutions for bridging projected shortfalls of $3 million to $4 million through 2013. "Our company will need to continue looking for alternative sources of revenue and making changes in our service models to reduce operating costs," Dixon said.
Fortunately she's both a seasoned team player and an expert at finances. Her previous jobs include 18 years as the finance officer, deputy controller and controller for the City of Evansville. The licensed CPA helped the IMCPL win the Government Finance Officers Association Certificate of Achievement for Excellence in Financial Reporting each year of her library tenure. "My professional philosophy is that every employee that works for a tax-supported entity has a responsibility of being good stewards of tax dollars regardless of their position," she said. "Accountability and transparency starts from the top down."
Dixon serves as the staff liaison to the IMCPL's board of trustees, to whom she's broken her share of bad news lately. But she's also taken steps to put the library on firmer footing. Before the most recent property tax reassessment, she eliminated the library's former practice of borrowing through tax warrants and doubled its interest income from $155,000 in 2005 to $344,000 in 2006 by changing the IMCPL's cash flow process and asking for tax advances.
She's also refinanced bonds at key threshold times, saving taxpayers some $2.5 million over the life of the debt. Dixon also established a rainy day fund for legal settlement monies, using the reserve to refund one bond series and part of another, in order to reduce the library's debt service by almost $950,000 in 2010 (and approximately $20 million over the life of the debt). She also instituted special revenue funds for new library endeavors and developed appropriate controls and procedures to manage them.
"Becky is able to think strategically and to help formulate and drive strategic business improvements proactively," said IMCPL CEO Laura Bramble. "Nowhere are these qualities more critical than in a turnaround, in which integrity, reliability and timely reporting of financial results are essential."
Sadly, it doesn't look like 2011 will offer Dixon a much-deserved break from her labors. However she remains dedicated to helping the library make it through the lean times. "The biggest achievement (for 2010) has been finding the balance between the services we can provide and our reduced resources," she said. •
Please enable JavaScript to view this content.