Honoree, Government
The dilemma for David P. Reynolds, the recently departed controller for the Consolidated City of Indianapolis, Marion County, was one familiar to the CFOs of most government-funded agencies and many not-for-profits: trying to handle an ever-growing demand for services using an ever-shrinking supply of taxpayer dollars. However the scale of his task was far greater. Reynolds was steward of the financial resources of a city of almost 900,000—the fourteenth largest in the U.S. and the third largest in the Midwest.
IBJ Photo/ Perry Reichanadter
"Units of government do not have the flexibility of many companies to adjust pricing to react to increasing costs," Reynolds said. "Indianapolis was forced to continue delivering services with reduced revenues and was only capable of doing that by lowering the cost of delivery of the service."
Reynolds recently left the city to become senior fiscal analyst for the Indiana Senate's Republican majority caucus.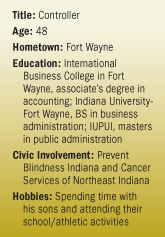 He'll certainly be missed by the administration of Mayor Greg Ballard after proving so adept at economizing and penny pinching to stretch the city's approximately $1.2 billion budget. Among a long, long list of money-saving adjustments and innovations, he outsourced benefits administration, saving $100,000 per year; developed an online auction service for surplus property that's grossed more than $300,000 in revenue; aggressively assisted city and county departments in their purchasing processes, saving them more than $4 million; and pooled cellular telephone programs for the entire government, saving more than $135,000 a year.
Another tool in his toolbox was consolidating and streamlining operations—a fertile field in a government comprised of nearly 35 city and county agencies and employing roughly 6,500. Reynolds folded the human resources branches of the Indianapolis Fire Department and the Indianapolis Metropolitan Police Department into the City/County Human Resources Department. He also consolidated grants management across several departments in a new Grants Division within the Office of Finance and Management, and developed a plan to consolidate city and county accounts payable and payroll by transferring city accounts to the County Auditor.
In addition he organized a three-year program to replace the city's 30-year-old financial accounting system with a fully integrated program replacing over 1,100 "shadow" systems. Standardizing number crunching procedures is expected to yield further cost savings and increase efficiency city-wide.
By myriad means, Reynolds helped Indianapolis avoid hitting a fiscal brick wall. When appointed Controller in January of 2008 at the onset of the Ballard administration, the city faced a forecasted deficit of $200 million by 2012. Through his efforts the budget was instead balanced for three consecutive years.
"Indianapolis is weathering the economic downturn much better than many of our sister cities in Indiana and our neighboring states," Reynolds said. "Indianapolis, under the leadership of Mayor Ballard, began preparing for this economic downturn very early in 2008. Early action to reduce costs has permitted us to weather the downturn."
Not that he expects things to get easier for the city any time soon. "The city is expecting a substantial reduction in its income tax collection in 2011," he said. "A reduction of $50 million, or 15 percent, of income tax revenues. I also see no growth or very modest growth for the rest of the city's revenues."
To help the city cope with that challenge, his successor, Jeff Spalding, a former financial administrator at the Indiana Commission for Higher Education, will have to keep an eye peeled for inefficiencies and unnecessary expenses.•
Please enable JavaScript to view this content.