Bren Simon
Simon Property Group Inc. has offered to settle a lawsuit with Bren Simon by cashing out 6.5 million partnership units her late husband Melvin held in the giant shopping mall developer.

But there's a Powerball-jackpot-sized catch: Simon Property Group wants to convert the units based on their value when Bren made the request in January—more than $150 million less than they are worth today.

Simon Property Group informed a Hamilton Superior Court in mid-November that it intends to opt for a cash conversion based on the company's January share price. Attorneys for Bren filed an objection a few days later.

The company has offered to pay $499 million, or $76.91 per unit, based on a formula that takes into account the price of common shares on Jan. 12, the day Bren elected to convert the units.

By Dec. 2, common shares had jumped in value to more than $101, implying a value of more than $656 million for the same 6.5 million units.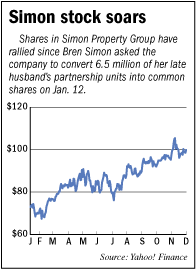 Attorneys for Simon Property Group argued in court Nov. 30 that they're following an agreement that gives the company's board the choice whether to convert partnership units into cash or common shares. The company wants the court to hold the proceeds from the 6.5 million units until Judge William J. Hughes settles a separate dispute over Melvin Simon's will.

"We're trying to solve problems, not create more," said Simon Property Group attorney Wayne C. Turner, a partner at Bingham McHale.

In a court filing, Turner noted Simon Property Group has paid more than $17 million in dividends on the units while the conversion has been in limbo.

Attorneys for Bren—who filed a second request to convert the units on Nov. 10—criticized the company's move as a calculated action to prevent the estate from capitalizing on market gains in the shares.

The company can't simply reconsider its earlier rejection of Bren's election to convert the shares, wrote William E. Wendling, Jr., of Carmel-based Campbell Kyle Proffitt LLP, in a court filing.

"SPG's sudden change of heart is motivated by an attempt to play the stock market at the expense" of Melvin's estate, Wendling wrote.

David Beehler, a partner in Minneapolis-based Robins Kaplan Miller & Ciresi, argued the company should lose the opportunity to cash out the units at a lower value since it stalled on converting them when Bren made her request in January.

"SPG should not be allowed to reap benefits by the conversion of units," Beehler said. "When you don't perform, you lose the right to do what they're doing now."

After the Nov. 30 hearing on the Simon will dispute, Hughes said he was prepared to rule on the matter but elected to hold off since Bren's attorneys are shopping for a new judge.

They took issue with the judge's choice of personal counsel to represent him in front of a state judicial commission. Hughes hired two attorneys with Bingham McHale after he was charged with driving while intoxicated in North Carolina in October. A different attorney at the same firm represents Simon Property Group.

Hughes jettisoned the Bingham McHale attorneys on Nov. 22, three days after Bren's attorneys objected and asked for a stay in the case. Hughes said he has "no bias" for any party or attorney in the case, but Bren's attorneys are not convinced.

The judge in March sided with Simon Property, blocking Bren's attempt to convert the units while the legal challenge to Melvin's will was pending.

The company—in a suit it filed in January—took the position that it should take no action on the unit conversion because of a pending legal challenge to Melvin's estate plan filed by his daughter Deborah.

"It would appear that the pending litigation constitutes a lien, which would not permit a conversion of the subject partnership at this time," Simon General Counsel James M. Barkley wrote in a Jan. 19 letter.

Attorneys for Bren Simon fired back on Jan. 21, threatening to pull Simon Property Group into the legal fight.

"Your position is untenable and has already caused our client damage," wrote attorney Michael V. Ciresi, a partner in the same firm as Beehler. "In short, it is evident that you and SPG are in breach of the agreement through your refusal and that you appear to be colluding with others which could lead to additional contractual and tort claims."

The shares had fallen by more than $2 apiece on the date of Ciresi's letter, to $70.38.

Attorneys for Deborah Simon have argued that Bren's attempt to convert the units all at once—an attempt at market timing that few financial advisers would endorse—is proof she is not a capable trustee for Melvin's roughly $2 billion estate.

The dispute is one of several that has broken out since Deborah sued in early January, charging Bren coerced Melvin to make changes to his estate plan in February 2009, seven months before he died at age 82.

Deborah contends Melvin was suffering from dementia and didn't understand what he was doing when he signed off on the plan, which boosted the share of his fortune going directly to Bren from one-third to one-half.

The changes also wiped out a portion that was to go to Deborah and her two siblings from Simon's first marriage—Cynthia Simon-Skjodt and David Simon, the chairman and CEO of Simon Property Group.

Bren has claimed in court filings that the changes to the will reflected Melvin's desire to compensate her for a drop in the company's stock price and a reduction in the cash dividend.

Since then, the company has restored its dividend and the share price is near a two-year high.•