A local company is finalizing plans for a 22-room hotel between Westfield Boulevard and the Monon Trail in Broad Ripple.
The hotel, dubbed Hotel Broad Ripple, would be the neighborhood's first hotel and could be the city's first to achieve LEED certification.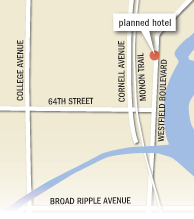 Developer Debra Stolen Hasbrook, who for years toyed with the idea of a hotel to serve Butler University and the city's midtown neighborhoods, found the site at 6520 Westfield Boulevard last year while running on the Monon Trail.
The new hotel will offer "convenient, affordable" accommodations for Butler students and guests, performing arts and sports visitors, and business and convention travelers, she said.
"Our design for the project incorporates the historic Merrill Stage building at the south side of the lot and will serve as the reception area for the new hotel," she said in an e-mail. "Our goal for the project is to create something both unique and authentic to central Indiana, and to that end we plan to incorporate some salvaged and refurbished materials as well as work from the local art community in the design of the rooms and public spaces of the hotel."
The designer on the project is locally based Gray Architecture. City-County Council review of the project is scheduled for Dec. 15.
Stolen Hasbrook declined to say how much the project will cost.
Please enable JavaScript to view this content.