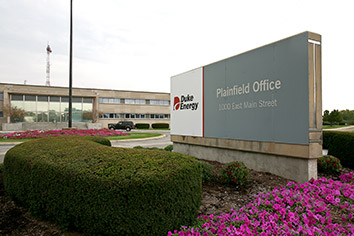 A top executive of Duke Energy has resigned after details of his social relationship with the former chairman of the Indiana Utility Regulatory Commission became public.
Duke announced Monday the resignation of James Turner as president and chief operating officer of the company's U.S. Franchised Electric and Gas business.
The Indianapolis Star reported last month it obtained dozens of e-mails under an open records' law request showing Turner and then-IURC chairman David Lott Hardy joked and discussed personal topics, sometimes trading messages eight or 10 times a day.
The two chatted about cars and taking trips together, according to an account published in the Star.
"Would the ethics police have a cow if you and the woman came up some weekend?" Turner wrote, according to e-mails published last month in the Star. Hardy wrote back: "Probably—we might 'be in the area' some afternoon, but I won't be doing this forever."
A Duke Energy spokesman didn't dispute the content of the published e-mails.
Turner , Duke's second-highest-paid executive, said Monday in a statement that the e-mails have become a "distraction."
"I have a duty to exercise the highest level of professionalism at all times in my communications," he said. "In certain e-mails to a former commissioner in Indiana, I fell short of this standard."
"I am choosing to step away at this time so that our company and our employees can begin to move on," Turner said.
Gov. Mitch Daniels fired Hardy in October, saying Hardy let a top utility commission lawyer handle Duke matters while discussing a job with the Charlotte, N.C.-based company.
The State Ethics Commission initially approved Storm's September move to work at Duke but later filed formal charges against Storms for negotiating the job while participating in decisions involving a nearly $3 billion coal-gasification plant the utility is building in southwest Indiana.
Duke fired Storms and Mike Reed, the president of its Indiana operations, amid the ethics flap. Reed was formerly the executive director of the IURC.
Duke is Indiana's largest electric utility, with 780,000 customers in 69 of the state's 92 counties.
Turner was president of Cinergy when that company and Duke merged in 2006, after which he became a senior Duke executive.
Please enable JavaScript to view this content.