Summit Realty Group is building out a new headquarters in a historic downtown building as its principals embark on an aggressive growth plan for the privately held company.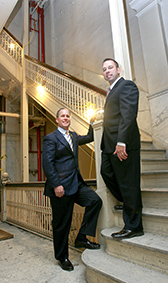 CEO Bill Ehret and Chief Operating Officer Brian Zurawski are renovating the former Pennway Building at Pennsylvania and New York streets into a home for Summit. (IBJ Photo/ Perry Reichanadter)
The Indianapolis-based brokerage, known mostly for shepherding office and industrial deals, plans to hire several employees in the next year or so for new teams focused on retail brokerage and investment sales.
The 40-employee firm, which remained profitable and avoided layoffs during the Great Recession, also wants to open more regional offices around Indiana like its successful satellite operation in Bloomington. The firm declined to disclose revenue figures.
Summit's biggest investment so far is in its new downtown headquarters: the four-story former Pennway Building at the southeast corner of Pennsylvania and New York streets.
The company is spending more than $3 million to acquire and renovate the 1909 building, which has been vacant 10 years. Summit plans to take the top two floors—about 12,900 square feet—and move in by April 2011. The bottom two floors are available for lease.
A basement will be converted into 12 parking spaces since the building does not have its own parking. Summit also has worked out a deal with the neighboring One Indiana Square for additional parking.
"We're looking down the road here," said Summit CEO Bill Ehret. "This is an opportunity for us to say to the market that we're making a long-term play."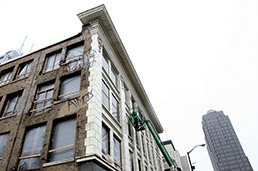 Vacant for a decade, the Pennway Building had fallen into disrepair. Summit will occupy the top two floors, and lease the bottom two floors. (IBJ Photo/ Perry Reichanadter)
The move means Summit is giving up its 10,000-square-foot space on the 47th floor of Chase Tower, including a balcony with a panoramic view of the city. The larger new space will cost Summit about the same as the old space, company principals said.
Summit handled leasing for Chase Tower until late 2009, when the skyscraper's Australian owner replaced the firm with the newly formed local office of Chicago-based Jones Lang LaSalle.
Notable Summit clients include Abbott Laboratories, Best Buy, Cummins, Dean Foods, Eli Lilly and Co., Herff Jones and the U.S. Postal Service.
Summit, part of the international Cushman & Wakefield Alliance, added a property management division in 2009 and plans to grow into the retail and investment brokerage business in a "controlled" manner without aggressive recruiting, said Tim Norton, who leads Summit's office group.
Each of the new teams would have a leader and three to five associates.
"When the market picks up, we will be in the game and well-positioned," Ehret said.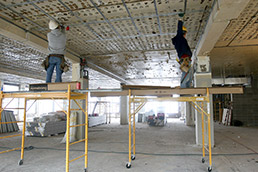 Summit's renovation of the Pennway Building parallels its broader strategy of branching into retail brokerage and investment sales. (IBJ Photo/ Perry Reichanadter)
Summit is expanding its focus from its office and industrial roots at a good time, said Brian Epstein, president of locally based Urban Space Commercial Properties.
"Now's as good [a time] as any to try to find some retail people to come over—when times are great, no one wants to move," said Epstein, who handled retail leasing for Chase Tower when Summit held the contract to lease space in the state's tallest skyscraper.
The new headquarters is the first development project the firm has undertaken, although several Summit principals are experienced developers.
Summit doesn't encourage employees to own buildings that compete with clients but does want to encourage an entrepreneurial spirit among its team members, who tend to take on projects clients aren't ready or willing to tackle, Ehret said.
"We want our people to know what ownership of real estate is like so they can relate in a practical manner with clients," he said.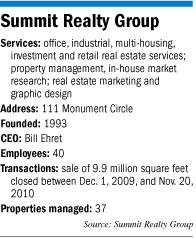 Examples include a neglected industrial building just east of Interstate 465 in Lawrence that is co-owned by Chief Operating Officer Brian Zurawski, Chief Financial Officer Jon Jessup and Executive Vice President Jeremy Woods.
"We're not only developing something for ourselves, but trying to turn around an area," Zurawski said.
Ehret and Summit Executive Vice President John Demaree are redeveloping a vacant lot and two vacant buildings along Washington Street just east of Meridian Street. The pair is turning the McOuat Building and the H&H Mart Building into restaurant or retail space and apartments.
The brokers began acquiring pieces of the property about a decade ago, when they bought the first two buildings, both since demolished. Since 2007, the pair had been working on plans to build a 10-story structure with a partner they declined to name, but that deal fell through in 2009.
"If there was a client ready to take on that project, we would have stepped aside," Ehret noted.
Summit already is a strong competitor in the brokerage business, and its new headquarters suggests it will remain so, said Todd Maurer, president of locally based Halakar Properties, a broker and developer that partnered on the nearby 3Mass condo building and manages the 36-story Regions Bank tower, also known as One Indiana Square.
"It's nice to see a building that's been sitting there empty for so long getting put back together," Maurer said of the former Pennway Building. "It's very good for downtown overall."•
Please enable JavaScript to view this content.