Symbios Medical Products LLC has landed a new distribution agreement that will send its sales spiking tenfold in the next two years.
The Indianapolis-based startup makes disposable pain pumps that deliver local anesthetic to surgery patients instead of those patients' taking narcotic painkillers.
It currently sells about 6,000 pumps a year to 60 hospitals and surgery centers. But with the help of Germany-based B Braun, a giant maker and marketer of medical devices, Symbios expects to sell 65,000 units in 2012 and 75,000 the following year.
In fact, through the exclusive distribution agreement that took effect Dec. 1, B Braun has committed to that kind of growth, pushing Symbios' revenue from an estimated $1 million now to more than $10 million in 2013.
"We are really poised to become one of only two major players in this market," said Symbios President Herb Senft, sitting in the dim conference room in Symbios' office and manufacturing facility on Georgetown Road.
The other major player—and pioneer of pain pumps—is far larger than Symbios. California-based I-Flow Corp. has revenue topping $140 million and was acquired last year for $324 million by Texas-based giant Kimberly-Clark Corp.
But Senft and his company's investors think there's ample room for the market to grow. They note that disposable pain pumps claim only a fraction of the $3.2 billion hospital pain market, yet are getting more and more attention.
The pumps are designed to be taken home by patients and used for a few hours until the anesthesia runs out. Since they range in cost from $115 to $190—compared with thousands of dollars for in-hospital pump machines—they can be tossed after one use.
Symbios' Go Pump delivers anesthesia through a catheter, which lies in a patient's surgical incision and sprays out pain medicine like a garden soaker hose. In addition, some anesthesiologists use the pumps to deliver anesthetic to a hub of nerves, which then numbs one limb but not the rest of the body.
"More and more doctors are getting trained on this," Senft said, noting that Symbios is specifically targeting surgeons and anesthesiologists.
The anesthesiologists are also B Braun's specialty. The company is the world leader in selling needles, catheters and other anesthesia devices. B Braun officials did not respond to requests for comment before IBJ's deadline.
"This just made sense to them to sell a product that they could couple with their needles and catheters," Senft said. B Braun is spending more than $2 million to bring on nine clinical specialists and a product manager to push the Symbios pain pump.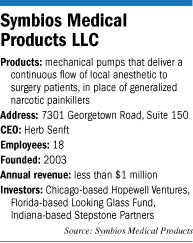 Symbios' pitch to hospitals is that using local anesthesia avoids key side effects of narcotics—especially constipation—which often keep patients from going home. Symbios estimates it can reduce hospital stays as much as two days.
"That's significant," noted Bruce Frank, an Indianapolis consultant to medical device companies. "If that's true, then the hospitals would be interested."
While the B Braun deal is great news for Symbios, the challenge now will be for the small company to scale up production to meet B Braun's lofty sales goals, Frank said.
Symbios already has added seven production workers in the past two months, bringing employment to 18. It likely will bring on 15 to 20 more workers as sales grow.
Jeff Lampe, a principal at Chicago-based Hopewell Ventures, Symbios' largest investor, said he's confident the company's management team has worked out a scalable production process.
Two years ago, Hopewell and Symbios' board promoted Senft to president—replacing Symbios' founder, Jeff Alholm—to get the company ready for a ramp-up. Senft was a co-founder of Indianapolis-based software company Powerway and was installed by Hopewell as vice president of Bloomington-based AuthorHouse in 2002.
With the help of Quality Manager Tom Cavanaugh, a veteran of Roche Diagnostics Corp., the company is ready, he said.
"Obviously, we're going to be watching closely our ability to scale, but I think we've had adequate time to make sure we can do so," Lampe said.
Symbios and B Braun also have agreed to work together on a second-generation pain pump, which will include electronics that make the pumps more precise and allow the rate of flow on the pumps to be varied.
Those features on a disposable pump could open up sales in the pediatric and cancer markets. That product, called Intellex, is scheduled to launch a year from now—and B Braun has committed to $36 million in sales of it over five years.
"It's great validation of Symbios," Lampe said, adding, "We're really excited about where this partnership can go."•
Please enable JavaScript to view this content.