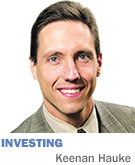 Former U.S. Federal Reserve Chairman Alan Greenspan held court. He built up the Fed to a position of global dominance as he foolishly bailed out the big American banks again and again on his way to becoming a cult hero. His successor seems hellbent on doing even more damage, but it doesn't look like he will enjoy the crown he inherited from the evil Mr. Greenspan.
A little background might help clarify the point I have been trying to make since I began writing this column nine years ago. The debate over whether we even need a central bank—which is what the Fed is today—began shortly after the founding of our country.
James Madison and Alexander Hamilton waged epic battles about the subject, with Madison prevailing. He argued that a central bank would do exactly what it is supposed to do, which is to centralize power in the hands of a privileged few. Madison properly felt that a central bank is directly opposed to our core founding beliefs.
We dabbled with a central bank a few times throughout the 1800s, but we always quickly did away with it. That is, until we completely lost our minds in 1913. That was the year we enacted the federal income tax. It was also the year we chartered the U.S. Federal Reserve Bank. We have been sliding down a slow, slippery path toward socialism ever since.
When Alan Greenspan was in charge, he effectively made interest-rate decisions based on what the stock market was doing. If the market fell more than 20 percent, you could count on Alan to cut rates. Pretty soon, even the most dimwitted investor realized his MO, and the moral hazard result was unprecedented.
Then, along comes Ben Bernanke, and his actions make Greenspan look like a piker! He actually wrote in a paper that he would drop money from helicopters before letting deflation grab hold of the economy. That earned him the nickname helicopter Ben, and since then he has done more than enough to live up to the reputation.
Bernanke appeared on "60 Minutes" earlier this month in a feeble attempt to convince an exceptionally dumb group of people (you and me) that dropping money from a helicopter is a really awesome thing to do. Here are some direct comments from the recent appearance and another interview with "60 Minutes" in March 2009:
• "One myth that's out there is that what we're doing is printing money. We're not printing money. The amount of currency in circulation is not changing. The money supply is not changing in any significant way. What we're doing is lowering interest rates by buying Treasury securities. And by lowering interest rates, we hope to stimulate the economy to grow faster. So, the trick is to find the appropriate moment when to begin to unwind this policy."
• "It's not tax money. The banks have accounts with the Fed, much the same way you have an account in a commercial bank. So, to lend to a bank, we simply use the computer to mark up the size of the account that they have with the Fed. It's much more akin to printing money than it is to borrowing." At this point, the interviewer asked if he was printing money. "Well, effectively. And we need to do that, because our economy is very weak and inflation is very low."
So, you get all that? He's not printing money, but he is printing money. He's buying assets today that have a high probability of losing value. This will end badly, but not until we get some inflation, which means higher asset prices, which means the stock market should keep trending higher. If you see stock prices correct a little over the near term, well, you know what to do.•
__________
Hauke is the CEO of Samex Capital Advisors, a locally based money manager. His column appears every other week. Views expressed here are the writer's. Hauke can be reached at 203-3365 or at keenan@samexcapital.com.
 
Please enable JavaScript to view this content.