Companies could start to play a bigger role in a job that mostly has been left to government: financing and operating the state's roads and bridges.
Among Gov. Mitch Daniels' legislative priorities for next year is putting guidelines into law that would allow the state to more broadly use the private sector to design, finance or operate public infrastructure.
Under current law, using such public-private partnerships, or P3s, requires legislative approval for each project.
If Daniels' push is successful, it could open the door for private-equity firms, which have shown renewed interest in investing in such projects, to put their money into Indiana.
As a result, Indiana, already known as a pioneer in public-private infrastructure because of deals such as the 75-year Indiana Toll Road lease, could see the number of partnerships grow.
"We are more likely to get a good auction with lots of players if there's no uncertainty about whether the transaction will be approved by the Legislature," Daniels said. "There are a lot of needs the state has that could be dealt with if we can build something on someone else's money."
That's exciting to P3 proponents, who see the partnerships as a way to pass risk onto the private sector and give the state an alternative way to finance projects at a time funds are tight.
But the idea of giving the private sector more control over public assets remains controversial.
Some worry that companies could use the deals to profit at the public's expense—by skimping on maintenance to boost profits or having too much authority to raise rates.
Others fear the public sector, hungry for income, will negotiate long-term leases that trade potentially more valuable future revenue for upfront cash.
And the projects come with a risk that taxpayers could suffer if a private partner were to default or go into bankruptcy.
"You've got to protect the public, too," said Indiana House Minority Leader Pat Bauer, who supports the deals in some cases but says the Legislature should have to sign off on each one. "Elected representatives and senators should at least scrutinize the hundreds of millions of future potential taxpayer obligations."
More private control
In traditional public infrastructure projects, the public sector designs the projects and typically bids the construction work to a private contractor.
Government pays for the projects, usually by issuing bonds, and maintains them after they're complete.
Public-private partnerships bring in private companies to do more of those tasks. In some cases, that may mean simply contracting for design work. More often, it involves getting the private sector to foot at least some upfront project capital, which government agencies repay over time through toll collections or other public funds.
In many cases, the public still owns the asset, but governments can enlist private companies to maintain the infrastructure for a fee—in some cases, a share of revenue from operation such as tolls.
P3 arrangements also can include contracting with private companies to manage existing roads and bridges and, in rare cases, long-term leases such as Indiana's $3.8 billion toll road deal, which was approved in 2006.
Daniels has not detailed specific projects in which the state is eyeing private investment.
He said his push is intended primarily to give future leaders the opportunity to leverage private money for new transportation building projects. But his office has not ruled out the possibility of arrangements involving existing assets.
"I don't know that we will ever have an opportunity as large as we seized with the toll road, but we'll see," Daniels said. "That's not my preferred way to raise money, but you've got to be open to new ideas to navigate in water like the ocean we're in."
Last year, state legislators approved public-private partnerships for two building projects: the Illiana Expressway connecting Interstate 65 in northern Indiana to two interstates in northern Illinois, and a project that includes adding a pair of bridges connecting Louisville and southern Indiana.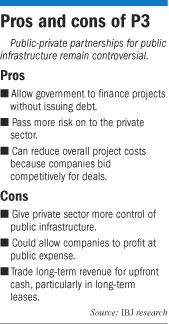 Indiana Department of Transportation officials and the neighboring states involved have not yet finalized how those arrangements will be structured or whether tolls will be used, department spokesman Will Wingfield said.
Under state law, only those two projects, the toll road and part of I-69, can use transportation public-private partnerships, though the state is not planning to use such an arrangement in the I-69 project.
According to the Federal Highway Administration, 22 other states have laws allowing some use of P3s, including 18 that allow companies to make unsolicited proposals for work.
Supporters say the arrangements help governments find creative ways to finance projects in tough times.
If the project doesn't involve a revenue-generating asset, such as a toll road, the city or state has to repay the cost through other revenue sources.
But even then, experts say, P3s can allow government units to avoid issuing debt for transportation projects.
And while government can issue tax-exempt debt, private entities can offer competitive financing because in many cases the interest expense from the debt they issue is tax-deductible, said Rob Collins, who worked on the toll road deal and now runs the infrastructure banking team for the Americas at Greenhill & Co., a New York-based investment banking firm.
"Transportation often loses state budget battles to the important priorities of health care and education," Collins said. "When you look around the country and you see projects that are on standby, private capital can really fill the gap."
Doubts raised
But with the potential benefits come sizable risks.
Contracts spelling out terms of such arrangements should be extremely detailed to protect governments' ability to control the assets, but often aren't, according to Jose Gomez-Ibanez, a Harvard University professor of urban planning and public policy.
"It's very difficult to write a contract that is complete—that foresees all the eventualities and provides contingencies for them," Gomez-Ibanez said.
And once government strikes a deal, it must maintain strict oversight of the partnership.
"Across all levels of government, the tendency is to grant authority to purchase but not invest enough effort or time in thinking about how to manage these ongoing relationships," said Sergio Fernandez, an assistant professor at Indiana University's School of Public and Environmental Affairs who studies privatization.
State Rep. Terri Austin, D-Anderson, has pushed to widen use of public-private partnerships for transportation. But she said legislation providing that latitude also should include language ensuring the public has ample opportunities to review the deals.
"If in fact we can increase the transparency and have some assurances involving accountability and stakeholder input," Austin said, "it would be wise to take the General Assembly out of a project-by-project approach."
Phineas Baxandall, senior analyst for tax and fiscal policy for U.S. PIRG, a federation of state public interest groups, said one danger is the private sector could play too strong a role in shaping a state's transportation layout, especially if companies were allowed to submit unsolicited proposals.
"Infrastructure is something where long-term and broad-scope planning is really important," Baxandall said. "If people are pitching a state on these deals, it can begin to drive the process for how the state develops its infrastructure system."
It's not clear how many public-private partnerships broader legislation would spur.
The interest from the private sector appears strong. Private-equity firms have raised more than $16 billion for infrastructure so far this year, according to Probitas Partners in San Francisco. That's still below the recent 2007 peak of $30 billion, but an increase from last year's $10.7 billion.
But even in states that have granted broad authority to authorize the projects, "in no case has that unleashed a large number of projects," said William Reinhardt, editor of the monthly newsletter Public Works Financing, which is based in New Jersey.
"They're very sophisticated, complex and expensive to procure," Reinhardt said. "From the bottom up, the politics are very difficult for putting these deals together."•
Please enable JavaScript to view this content.