While mass embroidery uses the most basic implements of fashion (needle and thread), I wouldn't necessarily consider it stylish.
In our hyper-branded society, the method has become less an art form used for adorning finery and more an upgrade to screen printing corporate logos, usually on the left chest of a polo shirt. I remember my first brush with such a garment. I was in the seventh grade orchestra, and the little ball of fire made of yellow thread on my polo shirt—we were the Keller Comets—let everyone know it.
I hated that shirt.
From their Noblesville house, Erin and Emily Baas, of Stitch Sisters, are working to change embroidery's damaged image. Sure, the mother and daughter-in-law, (sisters only in stitching spirit) do plenty of mass embroidery on their three machines, pumping out garments at 1,500 stitches per minute. But they try to think out of the box when it comes to corporate or school apparel.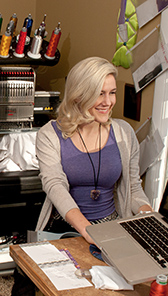 Emily Baas had no background in embroidery before she tried her hand three years ago. (IBJ Photo/ Eric Learned)
Instead of always placing a logo on the left chest, for example, text might creep down a sleeve or sprawl across a back.
"Wearing a brand, it's like getting a tattoo sort of, for your clothes," Emily said. "So when I'm thinking about placement, I think about where people get tattoos."
It's a mind-set that has served Stitch Sisters well: The last three years has taken them from one machine to three, and one person (Emily) to four.
The business started as an attempt by Emily to save her racecar-driving husband (Erin's son) the expense of the embroidered sponsor logos that appear on his racing gear.
It was 2007 and Emily had just graduated from Ball State University with a degree in entrepreneurship. She decided to learn how to embroider the logos herself—and it wasn't long before her husband's father bought an embroidery machine.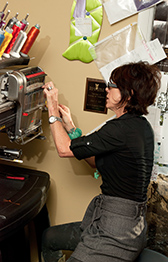 Erin Baas spent 20 years in the fitness industry before she helped start her daughter-in-law's business. (IBJ Photo/ Eric Learned)
Word of mouth led to a lot of business in the racing industry, too much for one machine really, but racing season is only a few months out of the year.
"I decided to look for companies who do things that interest me—music is a big one," Emily said.
When she learned a new technique called reverse appliqué—a contrasting fabric is sewn to the underside of a garment and text-shaped holes are cut to reveal it—she experimented with a sample garment. She embroidered the Oranje logo (a local art and music event) on a sweatshirt and published a video about the process online.
Later that day, the organizer of Oranje called and asked how many she could make before Saturday.
"He bought every hoodie I had," she said.
Since then, the business has acquired such high-profile accounts as Scotty's Brewhouse, the Indiana Department of Transportation, Cathedral High School and the Indianapolis Racquet Club. This spring, they hope to do more music festival work.
As three embroidery machines hum in the corner, the women who work there literally climb on tables to stay out of one another's way as they hoop a sweatshirt or digitize a design. It's clear the business has outgrown its space.
Looking through the picture window at a lake outside her house, Erin Baas sighed at the thought of finding a storefront for Stitch Sisters.
"It's so convenient having work at home," she said. "But then again, we need more space, and moving might help us keep more regular business hours."
Emily, who embroidered on a recent night until 10 p.m., said moving to a storefront will probably happen within the next year.
"Right now, we get all of our business through word of mouth or Google Maps. The next step seems to be to make ourselves more visible," Erin said.
A retail space would also allow for a showroom format, somewhere for the proprietors to sell retail pieces of their own design, making the unique embroidery methods available to anyone, not just those connected to clients.
"Seeing someone wearing a hoodie I made is my favorite part; it's like a musician hearing her song on the radio," Emily said.•
__________
If you'd like to share your own style ideas or know anyone who's making waves in the fashion community, contact Gabrielle at gposhadlo@ibj.com. This column appears monthly.
Please enable JavaScript to view this content.