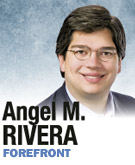 Question: What is the greatest threat to the American Dream in Indianapolis?
Answer: Our public schools are emulating the federal government: slow to change, expensive, inefficient and out of touch with reality.
This spring, the Legislature will be looking to reform the education system in our state. From my perspective as a city-county councilor representing all residents of Marion County, our legislators have their work cut out for them and they should not stop an inch short of a total shakeup.
Indianapolis needs reforms that encourage the establishment of new charter schools and provide families with public-funding options for private education. The specifics of how these reforms should function are being worked out by lawyers; I will focus on the overall goals.
The American dream in Indianapolis is threatened by our educational achievement gap. If we truly want to halve unemployment levels and improve income equality, our schools must consistently graduate innovators who will take entrepreneurial risks and start small businesses that prosper into large ones.
Many students, too often poor ethnic minorities, face terrible odds in failing schools. A report released by McKinsey Consulting in April 2009 found that this failure to maximize our human capital leads to lower earnings, poorer health and increased rates of incarceration.
This problem extends well beyond the inner city. That same study also reported a previously unnoticed and equally disturbing trend of underperformance in schools in more affluent areas.
The opportunity—and capacity—to succeed is a cornerstone of our American experiment. The belief that we can "make it" regardless of the social class of our upbringing is a critical piece of the American dream. For decades, high school preparation opened the door to a manufacturing job and a guaranteed pension upon retirement.
Global competition has pushed these jobs to less-expensive labor markets. Our work force can still be successful, but only with the right preparation. Schools need to produce excellent high school graduates, a majority of whom should then go on to complete higher education.
Indianapolis is fortunate to have state and local governments investing billions of dollars into public infrastructure while reducing debt and taxes. However, without a well-trained work force, too many Hoosiers could fail to land these opportunities. The Information Age requires a knowledge-based work force that can be developed locally.
Several studies by the Organization for Economic Cooperation and Development show the U.S. falling behind in math and science levels when compared to other advanced countries.
SAT averages for Indianapolis Public Schools, the largest school corporation in the state, have fallen consistently since the 2000-2001 school year. Averages were at their lowest in the 2007-2008 school years at 862, compared to past state averages consistently above 1,000. Six Indiana public schools have been on academic probation for four consecutive years; three of these six are IPS schools.
I applaud the signs of progress that have been reported, but we are a long way from success.
Indianapolis must become the global center for educational innovation. We should be the cradle of new methodologies for bridging the educational achievement gap. Our schools should be a shining example of American triumph—the best practices other states look to emulate.
We stifle students by limiting their parents' capacity to choose their school. Our universities are the envy of the world because they compete for top talent who, if unhappy, can transfer to another institution.
A similar theory should apply in K-12 education. Let us recruit the best teachers and principals and empower them to put into place the reforms necessary to accomplish the mission. Provide these professionals more flexibility in the classroom, higher pay for expertise in subjects that are in high demand, and incentive pay for those whose students consistently show measurable improvement. Let the schools compete for students that fit their individual strengths.
If we succeed, many more young Hoosiers will achieve their American dreams.•
____________
Rivera, a City-County Councillor, was born in Puerto Rico. Send comments on this column to ibjedit@ibj.com.
Please enable JavaScript to view this content.