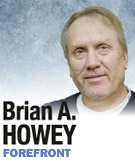 Driving through downtown Tirana, Albania, on a bus in August 2007 after an exhausting Nunn-Lugar tour through Moscow, Siberia, Ukraine and now this Adriatic backwater, I remember asking Kenneth Handelman whether civilization had "dodged a bullet."
This was after touring the Mayak nuclear storage facility and Schuch'ye Chemical Weapons Destruction Facility in Western Siberia. Handelman, now deputy assistant secretary for the Department of Defense's Global Strategic Affairs sector, answered, "We don't know what we don't know."
The backdrop to the question was bizarre. There were little domed depots visible from the road between the capital and the airport where paranoid Albanian strongman Enver Hoxha had established caches of weapons, fearing a Russian invasion. Hoxha was long deposed and dead, and on what was to be his pyramid mausoleum in downtown Tirana on this day was a sign reading, "Welcome President Bush."
U.S. Sen. Dick Lugar and former Sen. Sam Nunn came here to congratulate the new Albanian regime that reached out to the Nunn-Lugar Cooperative Threat Reduction Program to destroy the remnants of its chemical weapons. At the time, it seemed like a far-fetched notion that an Albanian chemical weapon might one day explode on the Washington Metro or at Giants Stadium.
Late last month, as tea party political opposition began to mount in Indiana against Lugar, he was deep in Africa, visiting virus labs on the shores of Lake Victoria in Uganda. Upon his return, he calmly waded into controversy, first bucking Senate Minority Leader Mitch McConnell on a largely symbolic earmark ban, suggesting that doing so was an abdication of congressional duty. Then Lugar, Senate Foreign Relations Chairman John Kerry and Secretary of State Hillary Clinton tried to stave off an embarrassing defeat on the new START treaty.
In doing so, Lugar risked stoking the wrath of the tea party movement on both fronts.
The Lake Victoria laboratory, and a similar one in Kenya, is a government lab that researches viruses that occur naturally in Africa in animals or in the Earth. The fear is that a terrorist group such as the Somalia-based al-Shabaab could hit the beaches, do a smash-and-grab, and take off with vials of marburg, ebola or anthrax.
The labs have no defended perimeter, no fences, no video surveillance and few guards.
"Some of the windows were broken," said Mark Hayes, an aide to Lugar. "There is less security there than at my house in Washington, D.C."
In these primitive facilities, African researchers produce many of these pathogens for study so they can determine what strain might be used for a potential pandemic.
An al-Shabaab ally—al-Qaeda—could do much with an anthrax bomb on a New York or London subway or stadium. During the World Cup, they bombed missionaries in Uganda. As Lugar observed, "A delivery system may be as mundane as a commercial cargo carrier. In the case of infectious pathogens, the delivery system could be an individual human being."
The West is familiar with suicide bombers.
The tea party has now targeted Lugar's Senate seat. State Sen. Mike Delph, a potential challenger, told The Indianapolis Star, "Conservatives like and admire Senator Lugar. However, he is wrong on judicial nominees. He is wrong on illegal immigration, especially amnesty. He is wrong on the New START treaty. And he is just now, as far as I can tell, talking about asymmetric warfare, modern-day military tactics taught in just about every military school across the country."
What the tea party—or anyone—doesn't know is whether Nunn-Lugar might have prevented an epic catastrophe in a 100,000-seat stadium. Such an attack would create "economic chaos," as Lugar put it last month. We don't know what we don't know.
And a question that must be posed to the tea partiers intent on taking Lugar out is, who replaces him? Mike Delph? Richard Mourdock? Sen. Jim DeMint? Sen. Lindsey Graham?
This is a question many should ask, ponder and potentially answer no matter what happens to Lugar's political or personal future.•
____________
Howey is a third-generation Hoosier journalist who publishes Howey Politics Indiana. Send comments on this column to ibjedit@ibj.com.
Please enable JavaScript to view this content.