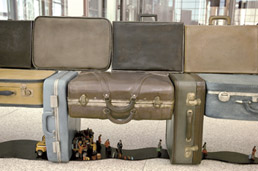 The airport signed a contract for the Indianapolis Museum of Art to manage its collection. (IBJ File Photo)
Tight budgets are prompting some of the state's largest not-for-profits to launch new businesses.
The Indianapolis Museum of Art started a consulting service around public art. The Kelley School of Business at Indiana University plans to market its students and faculty as paid consultants. And the Indianapolis Symphony Orchestra is hunting for clients in need of outsourced administrative support.
"We're just turning every stone to look at ways to generate income," symphony CEO Simon Crookall said. He announced the ISO's latest effort at the annual meeting in December, where the symphony's board also learned of a near-record deficit, $2.7 million, in its latest fiscal year.
The latest ventures are in their infancy, but the museum's new consulting arm, called IMA Art Services, has landed one client.
The Indianapolis Airport Authority this month signed a $100,000, one-year contract for the museum to manage its $4 million collection. The passenger terminal at Indianapolis International Airport, which opened in the fall of 2008, holds 40 pieces by 17 artists and six poets.
The IMA's duties include maintenance and cleaning, developing "broad-based initiatives to generate more exposure" for the airport's art, and creating guidelines for future commissions.
IMA Art Services is being modeled after the museum's nearly 2-year-old IT consultancy, called IMA Labs, which does special projects for other museums. That business brought in about $190,000 in the fiscal year ended June 30 and is expected to generate $350,000 this year.
The museum is looking for ways to blunt the impact of heavy losses to its $300 million-plus endowment suffered during the financial crisis. The current budget is $21.2 million, down $7 million from two years ago.
The IMA's foray into public art came after last summer's opening of 100 Acres: The Virginia B. Fairbanks Art and Nature Park, spokeswoman Katie Zarich said.
"A number of city leaders looked to the IMA and realized there's a certain amount of bench strength here at the museum to do large-scale public art projects they hadn't realized before," Zarich said.
Likewise, Kelley School of Business Dean Daniel Smith hopes to capitalize on IU's many resources to build a consulting service that specializes in global business. He said it's a natural extension of IU's faculty and student talent, distance-meeting technology and contacts all over the world.
The consulting business, to be piloted next fall, would target small and medium-size firms. The fees would go into an endowment for student scholarships.
The Kelley School of Business markets itself as the most affordable highly ranked MBA program in the country, but even its annual cost has skyrocketed 44 percent since the 2007-2008 academic year, from $18,232 for Indiana residents to $26,182 this year.
Smith has talked publicly for the past couple of years about the need to stem tuition inflation, but he said Indiana's move in late 2009 to cut state university funding pushed the Kelley School to act.
Smith outlined his plan in a recent guest column for The Economist magazine.
"What we're witnessing is a whole era of rethinking what it means to be a public university," Smith said.
The Indianapolis Symphony Orchestra has spent the past two years cutting costs while trying to gather more donations and sell more tickets. Yet the orchestra still has 70 non-musician employees working in IT, finance, fundraising and marketing.
"Any big company that has an infrastructure to maintain would look at this," Crookall said of his plan to farm out services. An ISO database manager, for example, could easily take on work for a small firm or not-for-profit, he said.
Crookall isn't planning to advertise, but hopes existing business relationships lead to new clients.
The economy has sparked interest across the not-for-profit sector in finding new ways to generate revenue, said Leslie Lenkowsky, clinical professor of public affairs and philanthropic studies at Indiana University.
Rather than rely solely on donations or government contracts, he said, "It's much better, if you have a service you think people will buy, to market it."
Unwelcome competition?
Girl Scouts sell cookies. Goodwill runs thrift stores, and YMCAs offer fitness centers.
Yet charities' business ventures often draw complaints from competitors, who don't enjoy volunteer labor or tax-exemption.
Indianapolis-based Blackburn Architects led the airport's public art program from its inception in 2004, and owner Alpha Blackburn had hoped to see her contract renewed after this year.
"I don't fault any museum for trying to think creatively of ways to expand their revenue source," said Blackburn, who is also a longtime supporter of the IMA. "I find myself objecting strenuously, however, as a businessperson to their, in essence, usurping opportunity by creating direct competition with small, for-profit businesses."
Although the IMA's curators are experts, Blackburn said choosing art for a public place, rather than museum property, is a different type of work.
"All kinds of people have to live with it for a long time," she said. "It's a whole different way of thinking about what's appropriate."
Business consultants might cringe at the thought of being undercut by IU students, but Smith argued that the Kelley School will fill an underserved niche. Small companies would pay a flat fee for six months to a year of work, which he said is longer than most consultants stay on the job. The fees would go to scholarships, as would a portion of revenue from business opportunities that result.
"There's a lot of opportunity to help people out there," Smith said. "There are literally thousands of midsize companies in Indiana alone."
Smith emphasized that the proposed consultancy isn't just to defray tuition. It's a way to grow Indiana businesses and address "brain drain," by helping students make connections that could keep them here after graduation.
"We see this as a way of helping the state," Smith said.
Jim Ittenbach, president of Strategic Marketing and Research Inc. in Carmel, said colleges are becoming more assertive in a market that's also full of displaced professionals working free-lance.
"The consulting world right now is kind of a cutthroat aggressive world in the first place," Ittenbach said. "It does make it significantly more difficult to survive as a medium-size consulting company."
Not all not-for-profits treat their in-house expertise as a source of revenue.
The Children's Museum of Indianapolis, for example, has overseen the design of exhibits for a similar museum in Egypt. In exchange, a top Egyptian official ensured that a traveling King Tut exhibit stopped in Indianapolis last year.
The local museum didn't profit from the show, but netted record attendance and a surge in memberships, CEO Jeffrey Patchen said.
If Children's Museum staffers do outside work, Patchen said, "It needs to further the museum's mission, and it needs to bring something to the museum that we wouldn't have had otherwise."
The IMA launched IMA Labs early last year in response to demand from other museums who were seeking help for special projects.
Robert Stein, deputy director for research, technology and engagement, said the IMA's work on open-source platforms benefits the whole museum sector, which generally lacks budgets for high-quality software.
IMA Labs and IMA Art Services aren't independent companies, but the staff members who work on their projects account for the time they spend on those ventures separately. Most of IMA Labs' revenue was considered "unrelated business income," and therefore taxable, Zarich said. The museum will work with its auditors to figure out whether revenue from Art Services is also taxable, she said.
Entering the market with a for-profit venture—which may ultimately fail—can provide good lessons for charities, Lenkowsky said.
"We talk a lot about accountability in the non-profit world," he said. "If they don't get the business, it should tell you something about what you're doing and how the rest of the world perceives it."•
Please enable JavaScript to view this content.