The Indianapolis 500's 100th anniversary is one of 25 subjects to be highlighted in the U.S. Postal Service's 2011 Commemorative Stamp Program, unveiled Tuesday.

Ray Harroun, winner of the inaugural Indianapolis 500 in 1911, is featured on the stamp, which says "Indianapolis 500" and "100 Years of Racing." The stamp's image was created by illustrator John Mattos.
"It's a great honor for the Indianapolis 500 to be featured on a U.S. Postal Service stamp," Indianapolis Motor Speedway Corp. President Jeff Belskus said in a prepared statement. "The stamp recognizes the 500 as a vital part of American culture and is a wonderful addition to our celebration of the 100th anniversary of the race in 2011."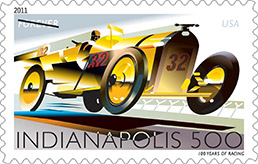 This is the second time that the Marmon Wasp, piloted by Ray Harroun, has been featured on a U.S. stamp.
The postal service receives thousands of suggestions annually for postage stamps. The Citizens' Stamp Advisory Committee recommends 20 to 25 subjects for final approval by the Postmaster General. According to the postal service, "stamp subjects must stand the test of time, reflect the cultural diversity of the U.S. and have broad national appeal."

This is the second time the Marmon Wasp, piloted by Harroun, has been featured on a U.S. postage stamp. The car also was highlighted as a 17.5-cent stamp in a transportation series in 1987.

The 2011 Indianapolis 500 is scheduled for Sunday, May 29, at the Speedway.

The latest stamp will be a Forever Stamp, which is always equal in value to the current first-class stamp rate, regardless of future price changes.