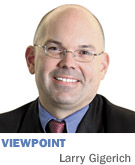 The 2011 session of the Indiana General Assembly will have a profound impact on the future of our state and our ability to retain our ranking as one of the top 10 states in which to do business.
First and foremost, every single issue considered by the Legislature must address one fundamental question: "How will this issue affect economic growth and the creation of a vibrant economy in Indiana?" At a time when Washington, D.C., is rife with political infighting, Indiana has an opportunity to show it is different. By using economic growth as the driving factor in the 2011 session, Indiana can take decisive action that will result in short- and long-term gains for all Hoosiers.
If we begin with this premise and agree that the good of the state is more important than the politics that affect it, what should the Legislature focus on? Here is a list of key moves the General Assembly should carefully consider during the upcoming session:
Education
• Provide financial rewards to teachers who excel and terminate teachers who perform poorly.
• Grade the performance of schools on an annual basis and offer parents of children trapped in the worst-performing schools alternatives for better educational opportunities for their children.
• Continue to invest in resources in two- and four-year higher educational institutions.
• Require K-12 school districts in close proximity to one another to procure products and services together to lower costs.
• Ease the certification process for non-teachers to be able to teach certain subjects when they have subject-matter expertise.
Fiscal health
• Pass an honestly balanced budget for the state rather than declare the budget is balanced by deferring payments to different governmental entities.
• Do not approve any state-level tax increases that will stifle capital investment and creation of jobs.
• Approve township government consolidation to eliminate redundancy and reduce the costs of delivering services.
• Maintain the hiring freeze in place at the state to ensure fiscal responsibility.
• Continue to examine ways for private sector and not-for-profit organizations to deliver services on behalf of governmental agencies.
Economic development
• Maintain the most effective economic development programs, including the Economic Development for a Growing Economy tax-credit program in use by the state, to ensure Indiana remains competitive.
• Continue to stimulate research and development activities in the state.
• Evaluate whether to make Indiana a right-to-work state.
• Invest in infrastructure projects tied to economic development activity.
• Implement initiatives, such as a statewide smoking ban in public places, to make Indiana's residents healthier in order to lower health care costs for companies.
Now is the time to act. It is no coincidence that many Midwestern states elected new governors who campaigned on economic development platforms this year. If Indiana waits for the economy to improve to take bold steps, our competitors will pass us by and be better positioned for growth and wealth creation. States like Iowa, Michigan, Ohio, Pennsylvania and Wisconsin will move rapidly to improve their economic development footing with business-growth strategies that could come at the expense of Indiana.
If we are not bold and innovative, we will lose out on economic development opportunities. Let's hope the General Assembly acts in a bold manner to create opportunities for all Hoosiers.•
__________
Gigerich is managing director of Ginovus, an Indianapolis-based provider of national site selection, public-policy development, community comparative analysis and economic development incentive procurement and management.
Please enable JavaScript to view this content.