Two downtown cultural institutions, the Eiteljorg museum and the Indianapolis Symphony Orchestra, ended 2010 on a positive note.

The Eiteljorg Museum of American Indians and Western Art was on track for record attendance because of its special exhibit, Jingle Rails.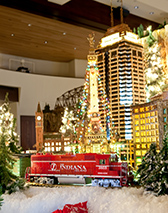 A seasonal exhibit called "Jingle Rails" ?drove record attendance at the Eiteljorg Museum.(Photo: Eiteljorg Museum/Shawn Spence)
As of Dec. 23, the museum had attracted 70,000 general-admission attendees, a 67-percent increase over 2009's attendance of 42,000. (The attendance figures do not include museum members, school tours and private events.)

The Eiteljorg expected comprehensive attendance to hit 135,000 for the year. That would top its record attendance of 125,000 in 2001, fueled by an Ansel Adams exhibit.

"We had very high expectations, but it has exceeded them," CEO John Vanausdall said.

Custom-crafted for the Eiteljorg by artist Paul Busse, the exhibit is a Western-themed railroad scene. Admission is free with regular museum tickets.

Vanausdall said Jingle Rails appeared to be having its intended effect, which was to lure first-time visitors and families with children and introduce visitors to the entire museum. Exit surveys are finding that families stay in the museum three hours or longer. Vanausdall said he's watched the effect himself.

"The children are really attracted to the new family learning center. The parents have to drag them out."

Vanausdall said Jingle Rails will definitely return next year with some additional features.

The ISO's good news came in the form of a $500,000 grant from the Eli Lilly and Company Foundation for its audience-development initiatives.

The grant, to be paid over five years, will support several programs launched in the 2009-2010 season that have lured new concert-goers with less formal settings, new musical styles and lower prices.

The ISO says 17 percent of people who attended the lower-priced series Symphonic Hits were first-timers in 2009-2010. The string trio Time for Three attracted record audiences to the Happy Hour at the Symphony series. The ensemble, whose members include Concertmaster Zach DePue, will partner with soloists and other orchestra members this season and next.

The grant will also support the use of new technology and flexible ticket packages. The ISO says its flexible package sales have grown 38 percent in the 2010-2011 season.

Lilly's corporate foundation is also title sponsor of the Lilly Classical series. The foundation has given the ISO $8 million over 25 years.