Media circuses are like magnets: They either attract or they repel.

I tend to be in the repel camp. The more attention focused on something, the less I am interested in it. And that applies to just about everything from books to celebrities and from TV shows to dining trends.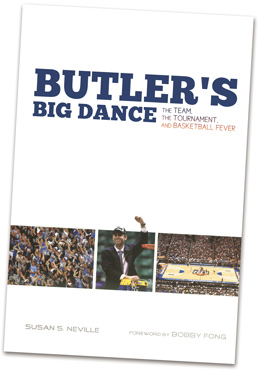 This anti-bandwagon approach kept me from joining the masses converging on Butler University during last year's NCAA tournament, when the Bulldogs fought their way into one of the most exciting college basketball games ever played, a game that came down to one dramatic "Hoosiers"-like shot.

OK, so I did watch that final game. But while I admired the team, its coaching, and the Butler philosophy (yes, the players did go to classes on game days), I wasn't a part of the hysteria.

But now, thanks to Susan S. Neville's new book, "Butler's Big Dance" (Indiana University Press), I have a better idea of what it was like.

To be clear, this is no ordinary basketball book. Go elsewhere if you want insight into coaching strategy, re-creations of locker-room speeches, or you-are-there moments under the backboard. Neville, a professor of English and creative writing at Butler, is less a sportswriter and more a sociologist looking at the impact of her subject rather than examining the thing itself.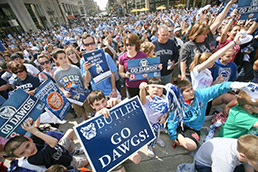 When Bulldog-mania swept the country, Susan Neville put pen to paper. (IBJ File Photo)
She's more focused on the mobs converging on the student bookstore for T-shirts. Insights are plumbed from the dance department on the similarities and

differences between their work and that of their free-throwing fellows. In an advanced literary theory class, students who are used to being ultra-analytic and ironic have to find a way to incorporate the sincerity and simple emotions of the championship game into their world views.

"[When you live in Indiana], you would not bring theory to bear on basketball or think of it as an ideology," she writes. "It is absolutely what it is and not what it appears to be, and you, the fan, are not a cultural construction. You are a human being and there's no use stopping to ask what that is. That's Indiana basketball."

Occasionally, the voice is confusing. I wasn't always sure when Neville was writing as herself or channeling others. An occasional editorial comment stands out awkwardly from the otherwise lithe prose ([After the tournament] "We're back in the world where the Gulf of Mexico, a paradise, will be filled with oil because of corporate decisions.") And some less-than-careful editing leads to some sections that feel like good magazine articles padded.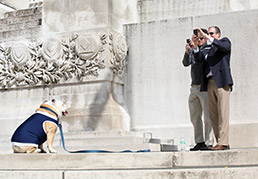 Am I Blue? Butler's bulldog mascot rivaled the team for attention last year. (IBJ File Photo)
Still, this is an original book both gentle and bold, thin at under a hundred pages, but composed with remarkable speed and containing many passages worth perusing.

"When someone congratulated us on something we ourselves hadn't done," writes Neville, "or wanted to have a picture taken with a 'real Butler person,' we knew both how beautiful it was as well as how dangerous it could be to fall into the sleepwalker's dream. And I'm speaking here as a less-than-bit player, as someone who just happened to be there. I can't imagine how difficult it is to hold on to any sense of human identity if you're at the center of something like this. You have to have someone who says to you 'go to class. Just go to class. Put one foot in front of the other.'"

For what it is and what it isn't, this love letter to the university and its values is also a strong bridge between the two great passions of sports and the arts. The two, illustrates Neville, don't have to be on separate teams.•

__________

This column appears weekly. Send information on upcoming arts and entertainment events to lharry@ibj.com. Twitter: IBJArts and follow Lou Harry's A&E blog at www.ibj.com/arts.