I'm not one of those Jersey guys who thinks that nobody west of Harrisburg, Pa., knows how to make a decent cheesesteak sandwich.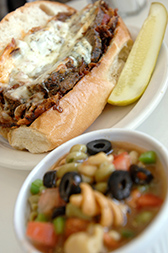 A pickle and a side round off Jersey's Café's hefty cheesesteaks. (IBJ Photo/ Perry Reichanadter)
Sure, I was shocked when I moved here from the Garden State (quit laughing) and found Indianapolis eateries selling alleged "Philly-style" cheesesteaks with green pepper on them. But I spent enough time eating steak sandwiches all over the mid-Atlantic that I've come to respect variations. The kind of cheesesteak you get at Pat's or Geno's in South Philly, for instance, is very different from the suburban ones at Mama's Pizzeria in Bala Cynwyd, Pa., or Gaetano's in Willingboro, N.J. Heck, I used to get a chicken cheesesteak with barbecue sauce from a Korean street cart vendor outside my old office. Vive la cheesy difference.
So I didn't go into Jersey's Café (13710 N. Meridian St., Carmel, 846-7760) with a (pickle) chip on my shoulder. I just went in looking for some form of goodness that involved meat, melted cheese and a crunchy, soft roll.
And I'm happy to report that Jersey's Café in Carmel would hold its own along any exit of the Garden State Parkway.
Before I get into specifics, let me offer a warning: This is one place where I say look at the menu before going in. Every sandwich on the menu has variations and each variation has its own name. Your head may well spin and your belly cry out while you try to sort out the differences, for instance, between a Piscataway Grinder and a Bridgewater Grinder or between a Red Sox Suck Chicken Cheesesteak and a Florham Park Cheesesteak.
We embraced Jersey's Café's gluttonous streak, diving into a Cherry Hill Cheesesteak ($8.99—all sandwiches include a wide range of sides, from sliced bananas and granola to mustard potato salad).
Yes, there was a satisfying steak sandwich in here—but it was gilded with sliced handmade meatballs and red sauce. It was impossible to eat, sandwich style, but the pleasure of alternating forkfuls of meatball and sliced steak, both bathed in provolone, was practically carnal for this carnivore. Oddly, the Giovanni da Verrazanno Cheesesteak ($8.99) featuring eggplant and Italian-seasoned steak worked better together. Roasted tomatoes and black olives accented.
You think those sound big? If you want to feed a whole offensive line, there's The Eli No. 10 ($8.99), packing Italian roast beef, roasted red peppers, fried egg, fried potatoes, cole slaw, tomatoes and Redhot sauce—onto a nearly football-size roll.
Simpler sandwiches were equally sizable. The Chatham Meatball Nonie Grinder ($8.99) featured the aforementioned meatballs covered in lettuce, tomato, onion, oil and vinegar, and oregano. Half the toppings could easily be pushed aside to form a large salad and the handmade orbs were a bit undercooked, but the flavors still combined nicely. The Bada Bing Hot Hoagie ($8.99) found a nice marriage of red sauce, provolone cheese and chicken cutlet.
Dessert? Really?
Well, to complete the experience, pick up some salt water taffy, available for 10 cents a piece at the cash register. And, if you are from Jersey (or even eastern Pennsylvania), make sure to sign the already rapidly-filling-up banner by the rest rooms.
This Wildwood native did. With pride. And a full stomach. •
__________
First in a month-long look at restaurants within easy reach of Carmel's new Palladium.
 
Please enable JavaScript to view this content.