Top commercial real estate firms have been playing a name game of late, picking up or dropping national affiliations in a broad realignment of the city's brokerage business.

Colliers Turley Martin Tucker became Cassidy Turley. Resource became Colliers. Grubb & Ellis Harding Dahm & Co. became Lee & Associates. And in the latest change, locally based Halakar Real Estate is partnering with a new-to-market real estate network based in New York to become Newmark Knight Frank Halakar.
Maurer
The firm, the city's ninth-largest commercial brokerage, will remain locally owned as it joins a privately held network with 220 offices on six continents.

Newmark Knight Frank Halakar plans to double in size, to about 30 employees, over the next year to cover all of Indiana and take full advantage of the new affiliation, said CEO Todd Maurer.

"It allows us to serve our clients on a global basis, all within the same network," Maurer said. "We're one point of contact."

Changing customer demands are the impetus for the wave of real estate firms seeking national affiliations. Clients are looking for more of a consulting relationship—not just a transactional one—with their real estate brokers, said Jenna Barnett, Newmark Knight Frank Halakar's president.

Real estate is among the top three costs for most companies, leading executives to demand more analysis, market research and strategy from their agents.

A network of partners in place in other cities means a broker no longer has to research and interview prospective brokers when a client needs real estate in another city. Halakar's discussions about a partnership with Newmark began as Barnett negotiated a lease on behalf of her client ExactTarget in San Francisco. A Newmark broker represented the landlord.

"Business has changed, and companies expect more out of their real estate brokers," said Barnett, who also has represented Comcast. "It's not going to change the service we've been providing. It's just going to make it more robust."

The biggest name change to the city's brokerage lineup came when the largest player—Colliers Turley Martin Tucker—dropped the Colliers International flag to become Cassidy Turley in March.

Resource Commercial Real Estate—the city's fourth largest broker—picked up the Colliers affiliation a few months later.

Giving up the Resource brand was a trade-off that has more than paid off for the 10-year-old firm, said Sam Smith, CEO of Colliers International Indiana.

"We expected a lot and they exceeded our expectations," Smith said of the Colliers network.

Landing an affiliation with a national real estate network helps provide leads and extend the reach of local firms. The companies typically pay royalties to belong to a national or international real estate network, and are expected to send leads to other firms with the same affiliation.

"As a local company, you've got limited resources and reach, and you're locked out of a lot of business that's perceived to be too large for you to handle," Smith said. "By aligning with a global company, it gives you a wider reach, global referrals, and lets you tap into some talent they don't have locally."

The city has seen more than its share of affiliation changes in recent months.

Grubb & Ellis Harding Dahm & Co.—the city's fourth-largest local brokerage—dropped its affiliation with California's Grubb & Ellis Co. in September and partnered with another national network to become Lee & Associates Indianapolis. Grubb is looking for a new local partner.

NAI Global also is looking for a local partner after the owners of NAI Olympia, the city's seventh-largest commercial brokerage, decided in December to shut the firm after 20 years. Many of Olympia's brokers went to Summit Realty Group, a member of the Cushman & Wakefield Alliance.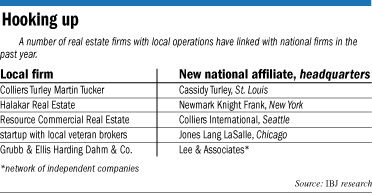 Others left to join the local office of Chicago-based Jones Lang LaSalle, which former Meridian Real Estate partner John Robinson launched in late 2008. (The JLL affiliation helped Robinson nab the leasing contract for Chase Tower.)

Not every company that partners with a national network takes on that group's name. Acorn Group Inc., the city's 11th-largest commercial brokerage, retains its own branding as a member of a network called TCN Worldwide.

With most affiliations—other than the giants like Colliers—the business you get from the network depends on whether you share leads with other members, said Albert M. Donato III, Acorn's vice president.

The bigger networks send exclusive listings negotiated on a national level with Fortune 500 companies—automatic business that can be lucrative for local brokers. The new Halakar should get prime listings because Newmark is a major New York player, Donato said.

Acorn is happy to focus on local clients with the ability to do their out-of-town work in partnership with other network members.

"Everybody's fighting over one tier of business," he said. "We don't want to necessarily fight over what everyone else is fighting over. We will not turn down opportunities, but there are a lot of smaller deals in Indianapolis. We don't feel like we need to brand first."

The departure of the Tucker name from the local commercial scene ultimately made it "open season" for national affiliations to move in, Donato said.

Firms that don't land a respected affiliation could struggle without income from capital markets and corporate services business, said Smith, the Colliers CEO.

He expects even the national networks to consolidate, with three or four major national players building a big lead over midsize competitors.

"Platform matters. Brand matters. That's why you're seeing such a change in the industry," Smith said. "You want to win, and do what's best for clients."•