Healthy behaviors and video games are ideas that don't go together. Normally.

Video games not only get blamed for making recent generations even more couch-bound than their TV-watching parents, but also for fostering violence, perhaps even motivating school shootings and other teen atrocities.

But the popularity of video games is proving irresistible to a growing group of developers and health care experts wanting to get across other kinds of messages: like the harmful consequences of smoking, alcohol abuse and unsafe sex.

Two companies with Indiana ties are developing video games that would embed those public health messages into games that, they hope, are also just plain fun to play.

Indianapolis-based Gabriel Entertainment has been working for several years on Ocean Secret, a video game for preteen girls that slips in content unfavorable to tobacco companies and cigarettes while the girls are solving a mystery.

Down in Bloomington, WisdomTools LLC. is developing CampusCraft, a game that puts college students on a quest, sometimes as a team, and requires them to pick up the clues they need to advance by attending college drinking parties. But if the students drink too much or engage in unsafe sex, they won't get the information they need.

Both efforts have yet to hit the market, so are still unproven. Yet both the developers, as well as public health advocates, have high hopes that the interactive nature of video games will prove more effective than older technologies at encouraging healthy behaviors.

"You can read about something or you can do something. In a game, you're doing something. By doing it, they're actually engaging in that behavior change that you're wanting them to engage in outside the game," said Sonny Kirkley, CEO of WisdomTools.

Dr. Greg Larkin, commissioner of the Indiana State Department of Health, said he'll wait to see the evidence on the effectiveness of video games, but he likes the concept in theory.

"No matter how you deliver these types of messages, especially to the young population, you have to put the aspirin in a spoonful of jelly or they won't take it," he said.

Larkin's agency has been pushing hard to reduce Indiana's rates of smoking and obesity for the past six years, with mixed results.

The percentage of Hoosier adults who smoke has fallen from 25 percent in 2004 to 23 percent in 2009, the most recent data available from the Behavioral Risk Factor Surveillance System annual survey.

But rates of obesity have just continued their march up, growing from less than 25 percent of Hoosiers in 2004 to 30 percent in 2009. Hoosiers' rates of exercise are flat over the same time period.

The Health Department has not placed as much high-profile attention on drinking or sexually transmitted diseases. But those are big concerns about the young. For example, one in five Hoosiers age 18 to 34 is a binge drinker.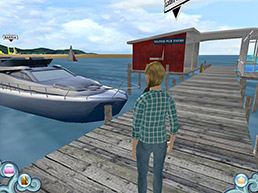 In Ocean Secret, teenage girls try to solve a mystery involving a tobacco company and receive subtle anti-smoking messages along the way. (Photo courtesy Gabriel Entertainment)
And there's substantial national interest in the power of video games to improve overall health. Both Gabriel Entertainment and Wisdom Tools have funded their work via grants from the National Institutes of Health.

At the very least, Larkin said, video games with health messages should be a more effective way to reach young people, whose attraction to video games is strong.

"Good health messaging has to align with the target audience it wants to impact," he said, adding, "Whereas in the past, people relied on billboards or signs at Little League or whatever, now, [video games] might be more engaging."

'Casual games'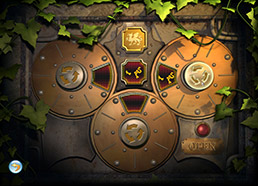 The game, being developed by Indianapolis-based Gabriel Entertainment, was invented by Anna McDaniel, a professor at the Indiana University School of Informatics in Indianapolis. (Photo courtesy Gabriel Entertainment)
Gabriel Entertainment and Wisdom Tools are trying to capitalize on the growing segment of the video game industry: casual games.

Rather than the testosterone-fueled games of XBox, Playstation and other game consoles, casual games are designed to be more accessible for all kinds of players. Think Tetris, not Tomb Raider.

More recently, the casual game Farmville has become hugely popular on Facebook, linking multiple players into teams to manage virtual farms.

One big segment of casual games is the exercise games made popular by the 2006 launch of Nintendo's Wii Fit, which has been the hottest thing for people exercising at home since Jane Fonda's workout videos.

Overall, casual games are a $3 billion global market—just a slice of the $25 billion video game market. But whereas sales of console games fell 10 percent in 2009, sales of casual games have been growing at least 15 percent per year, according to the Casual Games Association.

So-called "exergames" now constitute a $1-billion-a-year market, according to Ben Sawyer, president of Games for Health, a Maine-based trade group that hosts an annual conference on health-infused video games.

Sawyer noted that more developers are working on the kinds of games Wisdom Tools and Gabriel Entertainment are developing, but it's not clear it will prove effective and profitable.

"There has been some investment-level work in it, but nothing has paid off that we've seen," he wrote in an e-mail.

Games for Health partnered with the Indiana University School of Informatics in October to host a regional conference in Indianapolis for people interested in developing health games, not only for education and exercise, but even for training health care providers or for patients recovering from illness.

Anna McDaniel, an IU informatics professor who invented the Ocean Secret game being developed by Gabriel Entertainment, was a co-organizer of the event. She and a growing body of informatics professors are studying health video games to determine if they truly are more effective than traditional methods of educating health care providers, patients and the population at large.

"Hopefully, they will not believe they're being lectured or preached to," she said while discussing a test of Indianapolis girls she is conducting. "If the girls are being entertained and engaged in the game, the more likely they are to hear the [anti-smoking] messages and pick them up, pick up the attitudes."

Fun and educational
Kirkley
Gabriel Entertainment and WisdomTools are investing the time in the extra challenge of making a game fun and educational because they believe it might create new customers or least cinch a few more retail purchases.

"You have to lead with the entertainment value and the fun value," said Mike Root, who co-owns Gabriel with his wife, Dana. "But with that said, what I've always thought is, you have a young girl in the aisle at a Walmart, with her mom. On the box, as one of the unique selling points, mom picks up the box and sees the health messaging on that."

The same dynamic could work online, where many casual games are sold and played.

But the Roots also hope to pitch Ocean Secret to public schools, as a more effective supplement to the anti-smoking sessions they already have for their students.

WisdomTools is aimed squarely at selling to educational institutions—in its case, colleges and universities. A half-dozen already have agreed to pilot Wisdom Tools' CampusCraft game.

Also, WisdomTools is talking to three companies that make health-related products aimed at university students. Wisdom Tools is trying to sell them rights to make their product names visible inside the CampusCraft game.

Wisdom Tools is pitching it to universities to be used in various ways: It could be a more effective way to do freshman orientation on the topics of drinking and safe sex, noted CEO Kirkley.

However, Kirkley and the lead developer on CampusCraft, Pete Grogg, think some schools could make the game available at their campus recreational centers. Or they could make it available across campus online, with successful players winning points that could be used to spruce up their virtual dorm room or get them discounts at the real-world bookstore.

"No technology is going to be solving any problem we have. But games will certainly have a significant impact on people, done appropriately," Kirkley said. "The games have to be well-designed and engaging. And that's not an easy thing to do."•