Every neighborhood should have a Greek Tony's Pizza & Sub Shop (1732 E. 116th St., Carmel, 846-1200). And I'm glad the new Center for the Performing Arts in Carmel is just up the road from the real one—because that means I can look forward to many a pre-show stop for one of my favorite pizzas in the city.

First, a word about the place itself. At Greek Tony's, much of the wall space is covered in hockey jerseys and other haphazard signs of community involvement. Near the soda machine are fliers for Drew Brees-sponsored nutritional supplements and a Coke Zero sign clearly intended for management, not customers (it includes advice on why men are more likely to go with Zero than suffer the stigma of a "diet" drink). Oh, and there's a hand-written warning about stealing foosballs.

You get the idea. Greek Tony's has the feel of a place—and I'm not suggesting you do this—where you could tape something to the wall and it would still be there two weeks later. From the randomness of the décor to the Pringles guy-ish character on the logo, no committee seems to have been involved here.

And that translates to the food, which is why I keep returning.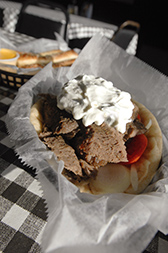 The open-faced Gyro Platter ($8.95) may not rival the better Greek places in town, but its fork-demanding mountain of meat satisfies nonetheless. (IBJ Photo/ Perry Reichanadter)
The bread sticks ($4 for 4, $9 for a dozen) are house-made and served dripping with butter and garlic on a metal pizza plate. The sandwiches are parked in plastic baskets, unadorned with sides. And a half sub—whether for the Godfather (Italian sausage with mozzarella and pizza sauce), the Tuna (a chunky version), or the Gyro Sub (nicely spiced beef with mozzarella, lettuce, tomato, onion and dressing)—are all under $5. Our only disappointment this time around was the Stromboli Sub, featuring what appeared to be stray sausage and beef toppings on an unsubstantial roll and tasting very un-stromboli-ish.

This was a minor setback, since there are plenty of other

choices. An open-faced Gyro Platter ($8.95) may not rival the better Greek places in town, but its fork-demanding mountain of meat satisfies nonetheless. The Chicago Italian Beef ($6.99) is offered wet or dry, but be warned: You will be mocked if you go with the latter. The menu even says, "Don't be a Whimp [sic]. Have it the way it was meant to be served."

My indulgent preference is to have a sandwich and share a pizza. Specialty pies include Paulie's Hot N.Y. Italian Fat Boy ($12.99-$21.74) featuring capicolla, pepperoni, bacon, sausage and a lot more. Sal's Spicy Pie ($9.99-$17.99) includes hot giaroiniera mix, chopped pineapple and pizza sauce.

All tempting, but I'm satisfied with the basics here. That's because Greek Tony's buttery-crusted pies excel. Ranging from a 10-inch small to a 16-inch XL, a basic cheese pizza will set you back $7.99-$12.99 with a sliding scale on additional toppings.

Service is quick and quirkily unpolished. You get the sense that everyone who works here somehow knows the owner. That attitude, like just about everything else at Greek Tony's, makes it stand out from newbies. This is a true neighborhood pizza and sandwich joint, and every time I've eaten there I'm given more evidence as to how it's lasted more than 25 years.•

—Lou Harry

__________

Third in a month-long look at restaurants within easy reach of Carmel's new Palladium.