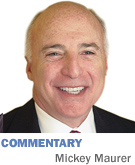 "Twelve years after I popped out, I learned to sell. During the next three, I began to write. Fifty years later, I discovered how to kill." Thus begins the journal of investment adviser Jack Chap, protagonist in John Guy's novel "Middle Man, a Broker's Tale."
John Guy is president of Wealth Planning & Management LLC, a local financial planning and investment advisory firm that he established in 1997 after a long stint with Dean Witter. Guy, a DePauw University graduate with a master's in political science from American University, was one of the early certified financial planners in Indianapolis and has extensive experience in arbitration around which he weaves his fiction. "Middle Man" follows his first effort, "How to Invest Someone Else's Money."
Chap delivers his narrative much the same as Walter Neff in the Billy Wilder film-noir classic "Double Indemnity" (1944). In that chilling masterpiece, Neff is aroused, snagged and driven by the seductive Barbara Stanwyck character. When their murderous adventure begins to unravel, he leaves a dissertation to be read by the relentless insurance investigator played by Edward G. Robinson. "Middle Man" is no less suspenseful in its denouement as Chap writes his journal to regain his sanity. In both situations, the main character, a helpless ordinary Joe, is embroiled in a murder that he struggles to explain. We get to listen in.
Guy sets his story in Indianapolis. Readers will enjoy references to familiar institutions such as Wabash College, Eli Lilly and Co., Butler University, Turkey Run State Park, Greenbriar Elementary School, North Central High School and the Indianapolis Business Journal.
Even more fun is connecting thinly disguised companies to real ones. For example, Buy-Rite is described as follows: "It's a local company, insurance. A few years ago some former encyclopedia salesman raised a bunch of money to start this company. He really did it, almost alone, on his own! Then after a few years he purchased a couple of other insurance companies, one in Louisville, I think; maybe another in Peoria."
Guy tags the CEO with the name Fagan, an unflattering and unfair comparison of the local CEO to Fagin, the conniving career criminal in the Dickens classic "Oliver Twist." The Fagan of Buy-Rite was one of the highest-paid execs in the country, in some years making over $100 million. He had a horse in the Kentucky Derby, a private plane and a helicopter.
The Buy-Rite connection is an easy one. Try to parse Baker and Baker and manufactures.com. You may also wonder whether the firm Miller Miller and Miller is a reference to one of central Indiana's largest firms with a name in common. As Guy declares in another context, "We could speculate until the Cubs win a World Series and we still will not know … ."
Guy set out to entertain, to explore some of the emotions and attitudes of registered representatives, to consider some of the mildly silly aspects of the securities business, and to describe certain attitudes of investors that, if modified, would improve their relationships with advisers and their investment results. It is a commendable effort.
Guy, a punster in social circles, turns clever prose, especially when describing his own profession: "a stockbroker without an opinion is like fruit juice without rum" and "a stockbroker without a joke is like a wedding without a bride."
You'll enjoy this hot tale. There is even a dash of sex. The carefully plotted arbitration builds with sufficient foreshadow but I was caught by surprise nonetheless and had to pause and reread a section before exclaiming, "Wow, I never thought of that."
Many people vow to write "that book." Few people do. It takes discipline to write a novel and courage to cast your work before the public eye. Congratulations, John. To purchase a book, contact John Guy at wpam.com.•
__________
Maurer is a shareholder in IBJ Corp., which owns Indianapolis Business Journal. His column appears every other week. To comment on this column, send e-mail to mmaurer@ibj.com.
Please enable JavaScript to view this content.