A vigorous effort by city officials to enforce building-safety codes has some concerned that it's becoming tougher to revitalize older properties.
In the 14 months since the city rolled out its plan-review process for commercial property construction, some business owners and landlords in urban neighborhoods say they've faced delays or the prospect of higher costs to get permits for their projects.
Others say they're anticipating those problems as they prepare to apply for permits in coming months.
"We purchase those buildings at a price based on our assumptions that we could do a certain amount of work to bring in new tenants," said Larry Jones, a longtime Indianapolis commercial-property owner who co-owns the Murphy Building in Fountain Square. "When you start raising the cost of doing that, it gets to be so prohibitive that the space you're left with is useless."
Bringing older buildings up to state and federal standards is more time-consuming and expensive for older buildings than newer ones.
That wasn't much of a concern before November 2009, when the city added its own plan-review process to an existing state review, which some say was less stringent in its interpretation of state fire and building codes.
City code enforcement officials say the tougher process, an initiative of Mayor Greg Ballard's administration, has huge benefits, including ensuring better safety and reducing insurance rates for commercial properties.
Business and building owners acknowledge those issues are important, but say there should be some latitude in the way standards are applied to older structures.
They say the cost of implementing codes can deter investment in older properties, particularly in still-transitional areas such as the near-east side.
For landlords who own the older buildings, it adds expense to redevelop the properties that they might not have anticipated if they purchased the buildings before the department started the strict enforcement.
That cost is hard to recoup by charging more rent if they want to remain competitive.
And for not-for-profit developers dependent on grants and leveraging private funding, extra time can put them at risk of jeopardizing critical project time lines.
A handful of architects, landlords and small-business owners met last month to discuss their concerns with city leaders. In response, the Department of Code Enforcement is launching an educational effort to make the business community more aware of the process.
Those at most risk of struggling with the process are smaller outfits that are inexperienced with such procedures.
But those concerned about the review say lack of knowledge isn't their biggest concern. It's what will happen if the city continues to enforce codes with more intensity.
"It's almost like they're in an adversarial process, which it shouldn't be," said Patrick Dubach, president of the Re-Development Group, a for-profit developer that does commercial and residential work in mostly urban areas. "They don't realize the competitiveness of urban development versus suburban."
Small-business struggles
Among those affected by the changes is Ed Rudisell, co-owner of the yet-to-be-opened Black Market restaurant in the 900 block of Massachusetts Avenue.
The restaurant-owner's architect submitted plans for the space in October after the project had received other approvals.
The owners had received a brief response from the state's plan review that included some minor tweaks.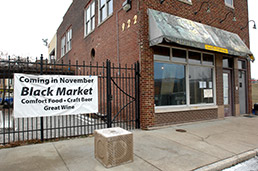 Black Market's owners were delayed in their original plans to open in November and submitted city permit documents later than anticipated. (AP photo)
But the city's process included two months of back and forth over the restaurant's maximum occupancy. The city determined it was more than 50 and thus required upgraded fire-safety features that would have added thousands of dollars to the project.
To avoid those costs, the restaurant owners ultimately opted to reduce the footprint of the space, which reduced the occupancy and code demands. They received permits late last month.
Rudisell said the process was painful and took longer than expected. In particular, he grew irritated that the city dictated changes that the state didn't.
At one point, he and his business partner even considered backing out of the venture.
In hindsight, he said he's not sure he would invest in an older location, given the complications that came with his Mass Ave project.
"We don't see ourselves as suburban people; we'd much prefer to be in the downtown area," Rudisell said. "But it creates a lot of frustration."
Tom Battista, who owns the building where Black Market is locating as well as others on the east end of Mass Ave, said the city needs to be more lenient when it comes to standards for older buildings.
"They're trying to take [enforcement] to the nth degree, and that's what we're struggling against," Battista said. "It's going to kill all the development in all the old parts of town."
Improving the process
City code officials make no apologies for requiring compliance with standards and say they have little latitude in interpreting them.
They say everything they deal with during plan reviews is related to life safety, not aesthetics.
"We're looking at things related to building code that, left unattended, could kill someone," said Rick Powers, the city's director of code enforcement.
With older buildings, city officials say, one option is to apply for variances from the state, though those can add time to the process. They also point out that the state's building code allows for some exceptions for older buildings, but it's up to design professionals to utilize them.
Before the Department of Code Enforcement's plan-review, the city fixed design problems on the back end by sending inspectors to construction sites and issuing stop-work orders when the projects didn't comply with code.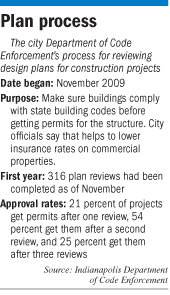 Still, that only happened with about 30 percent of projects because the city had too few inspectors. Since the city beefed up enforcement, the department has been able to review plans for all projects before construction.
The new approach has won the city an improved risk rating from the Insurance Services Office—data insurers use to set rates. The office changed its rating from seven to five on a one-to-10 risk scale.
Some in the development community say the benefit of stricter plan-review merits the tradeoff of a more cumbersome process.
"It provides safety to people," said Bill Gray, executive director of the not-for-profit developer Riley Area Development Corp., which works in areas such as Mass Ave and the near-east side. "It gives an opportunity for the city to grow properly."
City officials say that, alongside their educational efforts, they're working to make the process more streamlined and simple.
About 20 percent of projects receive permits after one review, while 54 percent take two reviews, and another quarter take three reviews. It takes an average of 17 days per project, including all ages of buildings and both rehabs and new construction.
Code enforcement officials say design professionals and small-business owners can make the process move faster by filing state and city applications simultaneously.
But development experts say the city should take a hard look at how its plan-review process affects older properties.
"I think that the city should re-examine this after it's been in place and make sure it's not having a dampening effect on reinvestment in existing buildings, and if it does, think about ways to mitigate that," said Bill Taft, executive director of Local Initiatives Support Corp., which supports local not-for-profit developers.
"We need to bend over backward to encourage reinvestment, not make it harder."•
Please enable JavaScript to view this content.