The bulk of embattled Indianapolis businessman Tim Durham's exotic car collection sold at auction on Friday afternoon, with his 1929 Duesenberg fetching the largest price—$1.237 million.
The Duesenberg Model J Dual Cowl Phaeton was driven Elvis Presley in the 1966 movie "Spinout." It was one of nearly two dozen vehicles sold as part of an auction conducted by RM Auctions of Ontario, Canada, at the Arizona Biltmore Resort & Spa in Phoenix.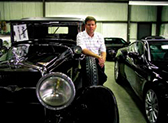 Durham in 2006 with one of his cars. (Photo courtesy RM Auctions)
The bankruptcy trustee for Fair Finance Co. put the cars up for auction to raise money for creditors of the defunct company, including more than 5,000 Ohio residents who hold more than $200 million in unsecured investment certificates.
The Durham vehicles collectively fetched about $2.2 million, likely leaving about $1 million for the trustee after expenses and a bank lien is paid off, said Kelly Burgan, an attorney for trustee Brian Bash. The funds will help cover the cost of attorneys and other professionals who've been filing lawsuits and taking other steps in an attempt to recover assets for creditors. Professionals have not applied for fees or expenses since the case began early last year.
Akron, Ohio-based Fair collapsed in late 2009. The trustee charges in court papers that its owners, Durham and fellow Indianapolis businessman Jim Cochran, "utterly looted" the business, pulling out tens of millions of dollars in insider loans that were not repaid.
Other Durham cars in the auction included a1929 Auburn 8-90 Speedster, a 2002 Lamborghini Murcielago, a 2006 Bentley Continental Flying Spur and a 2003 Astin Martin Vanquish.
Durham, who is the target of civil and criminal investigations, has denied breaking any laws but has acknowledged he owes Fair millions of dollars. He voluntarily turned over the cars to bankruptcy trustee Brian Bash last summer.
Attorneys for Durham say offering circulars that Fair provided to prospective purchasers disclosed the insider loans and other risks.
However, investigators are trying to build a case that Durham duped investors. In a court filing in late 2009, the U.S. Attorney's Office in Indianapolis alleged Durham was operating a Ponzi scheme, using money from the sale of new investment certificates to pay off prior purchasers.
Please enable JavaScript to view this content.