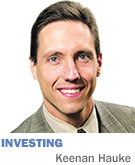 Another earnings season is in the books, and experts and investors seem to like what they learned. The market has had a nice upward move since early December, most likely anticipating the good news we saw in earnings reports.
That's all well and good, but you can go a million other places to find out what already happened. That's not why you read this column, is it?
I love sharing my investing thoughts and actions, and sometimes it is easy to open myself up to the world, especially when I'm right! It is a little more difficult for me today, though.
I have been right about this general bull market since July 2009 and I was right when I told people to stay invested last spring. Today, however, I am at a bit of a crossroads.
I have tried so hard over the last nine years to avoid being like every other so-called expert who constantly hedge their thoughts and give you both hands when stating their opinions. I might be given a pass after years of delivering hard-hitting useful market analysis, and maybe this one time, I will ask to be granted an indulgence.
OK, here it is: I think the bull market that began in March 2009 is still alive and well and should continue for quite some time. I haven't seen any of the evidence that I brought to you in the fall of 2007 that warns of an approaching bear market.
My problem, however, lies with the short term. The market has been demonstrating a weaker presence since late December despite higher prices in the major indexes, such as the Dow Jones industrials and the Standard & Poor's 500.
The market has rallied, but the rally is narrow. And it's not only U.S. equities showing this short-term negative picture. Most foreign markets look even worse on a near-term basis than the U.S. market. Most Asian and European countries haven't seen a new high since early November.
There is something else that has me a little worried as well. Again, my concerns are shorter-term in nature, but this next issue may deserve a little more attention.
The hottest company in the world and, thus, the hottest stock is without doubt Apple Inc. In fact, I'm writing this column right now using an IPad.
Apple's incredible popularity is, unfortunately, also its Achilles heel, at least for the stock. Anyone who wants to own Apple stock already does. All the good news is already known. Tablet computers from all comers are about to flood the market. And more Google-based Android phones were sold in the third and fourth quarters than iPhones.
Now, Apple CEO Steve Jobs is out on medical leave. The stock recently rallied until earnings came out. Then, after the news about Jobs, the stock got hammered. It has been recovering the last few days, but on lower and lower volume—a bad sign. Overall, there is more risk in Apple than most investors are willing to admit.
As a leader since this bull market began, that means the market may suffer a little hangover for a bit as the situation is sorted out. Short term, there is maybe a 6-percent risk in the market, but the longer term picture is still strong.•
__________
Hauke is the CEO of Samex Capital Advisors, a locally based money manager. His column appears every other week. Views expressed here are the writer's. Hauke can be reached at 203-3365 or at keenan@samexcapital.com.
Please enable JavaScript to view this content.