What's the best antidote to subzero, mid-January "What am I doing here?" thoughts? A trip to Florida, of course.
On this trek, I was able to spend a few days at Disney World, marking my first visit in about six years. And while I know the rough economy took its toll everywhere, including the Mouse Factory, I was impressed with how much is new and different in the Disney parks.
Assuming you already know about Space Mountain and It's a Small World, here's what's new and different since I last stepped off the Monorail.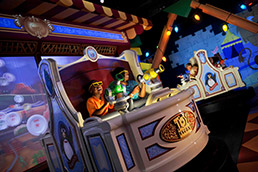 Riders score points on Toy Story Mania! (Photo Courtesy Walt Disney World)
Toy Story Mania. With 3D glasses in place, you cruise through a midway, stopping at screens where Woody and company prompt you to use your spring-action shooter to score virtual points. Big fun, it's still drawing big crowds in part because it makes you want to get right back on and top your score.
Lights, Motors, Action! Extreme Stunt Show. I usually avoid these sorts of presentations, but a friend talked me into taking in this impressive half-hour show. The pretense is that a movie is being shot and we get to see the stunts as they are shot—plus are privy to some of the behind-the-scenes secrets.
Finding Nemo: The Musical/The Seas with Nemo and Friends/Turtle Talk with Crush. Disney didn't buy Pixar until 2006, but that hasn't kept the parks from adopting the characters from 2003's "Finding Nemo" in a big, big way. At Animal Kingdom, the story gets the Lion King treatment with visible actors, impressive puppets and a solid score by Broadway composer Robert Lopez ("Avenue Q"). In Epcot, the Seas Pavilion has been branded heavily, with "mine, mine, mine" seagulls and a yawn of a ride through movie scenes (ending in what
should have been a really neat combo of live and animated fish). Afterwards, though, in a fun theater Crush converses with visitors. I'm still trying to figure out the technology, which involves a kind of computer puppeteer and live voice actor. Truly remarkable.
Monsters Inc. Laugh Floor. The premise is that the creatures from the hit movie are trying to collect laughs—so they open up a comedy club. The heckling of audience members and use of crowd-supplied jokes make this an attraction worth going to more than once.
Disney's Kim Possible World Showcase Adventure. Epcot has always been a lesser destination for kids. But Disney has smartly turned it into a game with this self-guided mystery. Kids are given a cellular device that clues them into the location of secret items and cause walls to open, characters to appear, and more.
Stitch's Great Escape. This dud of a sit-down attraction takes the place of the too-scary Extra TERRORestrial Alien Encounter ride. The alien from "Lilo and Stitch" is captured and then escapes in the dark—offering few chills or laughs. No surprise that the lines are short.
Soarin'. The ride structure is more interesting than the ride itself as you get hoisted 40 feet in the air, enveloped in a 180-degree movie screen, and taken on a high-flying tour of California.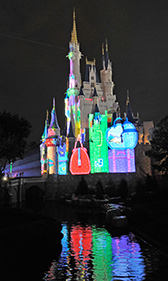 A new nighttime extravaganza creatively lights Cinderella's Castle. (Photo Courtesy Walt Disney World)
Duffy the Bear. Apparently, he's all the rage at Tokyo DisneySea, but Epcot's new mascot is as generic as a closeout item at Build-a-Bear Workshop.
New Disney Princesses. This was my first visit since Tiana, from "The Princess and the Frog," has been added to the mix, and she's a long-needed addition to the old-girl network. It's good to see its spunky Rapunzel also part of the gal gang. Now all we need is a place to play poker with the princes.
The Magic, The Memories and You. The nightly fireworks show now involves lights and images (taken of families in the park that day) projected onto Cinderella's Castle. Vines grow up the side. The architecture seems to change. And it even transforms into a magical rocket. Wow.
The American Idol Experience. Those interested in being contestants can go through an elaborate audition process to select three singers for each show—with the winners competing in the evening for a fast pass to the front of the line at any actual "American Idol" audition. Those without ambitions of being the next Kelly Clarkson can just watch as a trio competes—and are assessed by on-stage judges (who try a little too hard to copy the original AI threesome).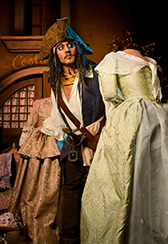 Capt. Jack Sparrow has been added to the Pirates of the Caribbean attraction. (Photo Courtesy Walt Disney World)
Other newbies that I didn't get to check out include Wild Africa Treks (up-close-and-personally guided trips into Animal Kingdom) Characters in Flight (a balloon ride over Downtown Disney), and Expedition Everest (the latest in roller coasters, taking riders in search of a Yeti).
Other attractions have gone through transformations recently, including:
Hall of Presidents. Animatronic Obama now delivers the oath of office as his predecessors look on. The likeness is stronger in profile than from the front.
Spaceship Earth. The ride inside Epcot's signature giant ball has been upgraded with new voiceover by Judy Dench and a neat onboard video screen that gives you a glimpse of your future.
Captain Eo. A 1986 attempt to combine the excitement of "Star Wars" with the song and dance of the "Thriller" video, this 3-D film "Captain Eo" (directed by Francis Ford Coppola) is being screened in Epcot and treated, wisely, as kitsch. No matter what you call it, it's still lame. Pirates of the Caribbean. The staple has been adapted to include Captain Jack Sparrow. The likeness is amazing and the ride remains as fun as ever.•
__________
This column appears weekly. Send information on upcoming arts and entertainment events to lharry@ibj.com. Twitter: IBJArts and follow Lou Harry's A&E blog at www.ibj.com/arts.
Please enable JavaScript to view this content.