A Carmel man whose Mini Thin dietary supplement was sold through convenience stores nationwide before the government banned its active ingredient now faces allegations of bankruptcy fraud.
Richard A. Deer's Body Dynamics Inc. filed for liquidation in bankruptcy court two years ago. But instead of turning over all assets to creditors, according to a new lawsuit, Deer and company insiders used some to continue pill sales through a similar business—DBI Distributions—and to grow a startup, Candy Dynamics.
Both companies operate out of Body Dynamics' old headquarters, 9700 N. Michigan Road.
In an adversary proceeding filed Jan. 14, trustee William Tucker alleges Deer kept the dietary supplement business going through fraudulent transfers of cash, customer lists, inventory and other assets. That firm, along with Candy Dynamics, ultimately received assets worth million of dollars, Tucker charged in the suit.
"Deer's purpose … was to permit DBI to carry on the business of the debtor and to reap the benefits of the debtor's advertising and good will, while escaping liability arising from the debtor's operations," Tucker alleges.
Body Dynamics listed assets of just $33,000 and known liabilities of $1.3 million for Chapter 7 liquidation in December 2009. In addition, Body Dynamics faced three personal-injury suits stemming from the sale of products containing ephedra, which the U.S. Food and Drug Administration banned in 2004.
Bankruptcy fraud would be a felony, but it's not clear whether Tucker will refer the case for possible prosecution. He declined to comment.
In addition to Deer, the trustee's lawsuit lists as defendants DBI, Candy Dynamics and two insiders: Deer's wife, Donna, who is secretary of Body Dynamics, and Karen Windle-Burcham, president of all three companies.
Attempts to reach Deer were unsuccessful. Windle-Burcham said via e-mail, "Please understand that our attorneys are preparing an answer to the complaint and have advised against discussing ongoing litigation."
Controversial product
Mini Thin and products like it were popular through the 1990s and into the 2000s as legal uppers. Mini Thin even made its way into rapper Eminem's song "I'm Shady."
Lawsuits and the FDA's 2004 ephedra ban did in some of Body Dynamics' competitors, but the company Deer started in 1981 appears to have continued with some success, at least for a few more years.
Mini Thin is still available, but it has been reformulated with caffeine and synephrine, according to a product list on DBI's website.
A former salesman attributed the company's recent decline to competition from Michigan-based Five-Hour Energy.
"I did the best I could to grow a product line that's really being phased out," said Dennis Gaffney, a St. Louis-based consumer products representative who was let go last July.
Liquid energy shots have taken over shelf space at national convenience and drugstore chains, leaving Mini Thin and other pills with "hit-and-miss" distribution, Gaffney said.
In the early 2000s, Body Dynamics, which did business as BDI Marketing, sold its products in 80,000 retail outlets.
Revenue dropped from $11 million in 2007 to $8 million in 2008, the company's bankruptcy filing stated.
Then, in 2009, it plummeted to $2.2 million.
Gaffney, who started working for BDI Marketing around 2008, said he didn't understand the transition to DBI.
"It was a privately held company that didn't explain a lot to their employees," he said.
Shifted assets
Body Dynamics transferred to Deer virtually all its assets shortly before filing for bankruptcy protection, Tucker claims in his lawsuit.
Assets included $160,000, inventory, equipment, marketing materials, trademarks, accounts receivable, packaging materials, customer lists, furniture and silver coins, according to a summary filed by Tucker that valued the transferred assets at 730,131.
BDI's Dec. 23, 2009, bankruptcy filing does not mention the transfer, or state a value for those assets.
Then Deer conveyed those assets to DBI, according to a bill of sale that Tucker filed in the case. Around the same time, Deer provided a $2 million revolving loan to King Richard Promotions, DBI's parent company.
Body Dynamics' bankruptcy filing, signed by Windle-Burcham, lists Deer as a creditor who is owed more than $172,000 in wages.
Tucker wants the bankruptcy court to disallow that claim and recover what Deer took for himself, or shifted to other companies.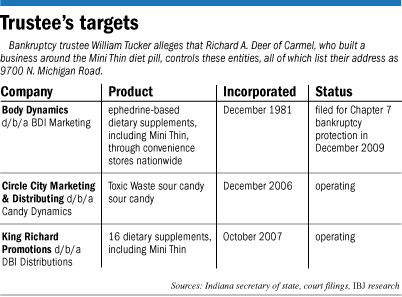 The adversary case doesn't state a total amount Tucker will try to recover. He appears to be gearing up for a deeper investigation. The bankruptcy court recently approved his hiring the Indianapolis forensic accounting firm Fouts & Co.
Local creditors who might benefit from Tucker's efforts include the local law firm Krieg DeVault, which says Body Dynamics owes it more than $300,000 in fees, and Sherry and Mickey Meek, who filed a personal injury lawsuit against Body Dynamics in Hamilton County in 2003.
DBI's parent company, King Richard Promotions, incorporated in 2007, but Tucker says the DBI name didn't come into use until late 2009. He notes that DBI uses the same trademarks, marketing material, brokers, distributors, customer lists, phone numbers and employees as Body Dynamics.
Body Dynamics' website, www.bdi-marketing.com, directs visitors to visit www.dbidist.com, which has a similar appearance and proclaims, "Over 28 years of premium quality healthcare products."
The two companies also have the same officers and directors, Tucker notes. Deer is the largest shareholder of BDI, with 49 percent. Donna Deer owns 48.75 percent, and Windle-Burcham 1 percent.
Deer is open about his companies' common ties. The Michigan Road building, which Deer's company FSC LLC owns, sports prominent signs for DBI and Candy Dynamics.
Candy Dynamics distributes its "Toxic Waste" brand of super-sour candy nationwide. Deer uses a picture of himself as "Professor Sauernoggin," a character from the company's marketing material, in his Facebook profile.
Windle-Burcham said Deer, who is the founder and largest shareholder of all three firms, "has always been the creative force for them."
It's not unusual for someone to put a failed company in bankruptcy, then start over in a similar line of work, said John Petr, a bankruptcy attorney at Kroger Gardis & Regas.
The question is whether any assets that carried over were obtained for fair value, he said. "That's a fact-loaded issue for the bankruptcy judge to determine."
Indiana law allows bankruptcy trustees, who look out for creditors' interests, to go back four years in recovering assets. Tucker is reaching for everything from Deer's regular pay to Candy Dynamics' revenue.
Body Dynamics paid Deer $195,500 in "wages" in 2008 and 2009, but Tucker thinks that money should go to creditors. He claims that Deer, who is 72, had retired, and with no job title or prescribed duties, failed to provide the company with "reasonably equivalent value."
Tucker also is going after cash from the September 2009 liquidation of a company called Grant Indemnity, a captive insurance company that managed the parent company's risk. He says Windle-Burcham directed that Body Dynamics' share of the proceeds, $253,000, be paid to Deer.
Finally, the trustee is trying to recover $2.5 million to $3 million he alleges BDI loaned Candy Dynamics. The loan was in the form of cash, rent, expense payments and employees' time, Tucker alleges.
He cites 2008 financial statements, which say, "BDI has been the main financier" of Candy Dynamics' parent, Circle City Marketing and Distribution: "Without revenue from BDI's main product to provide the needed cash for its operations as well as Circle City's growth, both companies are at risk."
He alleges that Deer directed Body Dynamics to write off the loans, which weren't mentioned in the bankruptcy filing.
Candy Dynamics
Candy Dynamics' value could be diminished in the wake of a national product recall.
The company announced on Jan. 14 that it would voluntarily pull its "Nuclear Sludge" chew bars because of lead contamination. A random test in California found more than twice the permitted limit of the toxic substance.
Windle-Burcham, who was traveling to a candy trade show in Germany, declined to say how much the recall will cost the company.
"Because consumer health and safety is involved, cost is not a consideration in the actions we've taken," she said via e-mail.
She said Candy Dynamics is pulling all of the chew bars, which were introduced in 2007, and would discontinue the product line. The company tested other Toxic Waste candies for lead, and they came up clean, she said.
The Indiana State Department of Health visited Candy Dynamics' headquarters and gathered its own samples for testing, spokesman Ken Severson said. The chew bars were made in Pakistan.
Candy Dynamics' parent company, Circle City Marketing & Distributing, was incorporated in 2006 and appears to have taken off quickly.
Toxic Waste appeals to kids with its toy-like packaging and gross-out theme.
"They're well-known in our industry for their niche," said Bernard Pacnyiak, editor-in-chief of Candy Industry Magazine.•
Please enable JavaScript to view this content.