Say the name "Palladium" and there are those who will immediately reach Def Con: Apoplectic. Just look at the comments posted after just about any Palladium story on ibj.com, at the Indianapolis Star website, or elsewhere and you'll see more hostility displayed than at an average World Wrestling Federation brawl.
I don't want to trivialize the thoughts and feelings of these folks who take any opportunity to rail at the very existence of Carmel's new music hall—fiscal questions have to be asked on a project of this size, and IBJ will keep asking them—but like Lucas Oil Stadium, the Central Library and other major city-improvement projects, the building is most interesting to me as a place where things happen. Every story on an Indianapolis Colts game doesn't have to include where the money came from for the retractable roof.
The fact is: The Palladium exists. I'm now interested in seeing what the powers that be do with it.
The first concert of the regular season gave reason to be optimistic. I'm not ready to use the word "perfect" (a staple in the marketing message of the region's new concert hall) but, in my lifetime, I honestly don't expect to hear chamber music in a better-sounding venue than I did Jan. 30.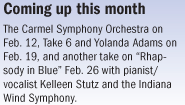 It helps, of course, when the players are as expert as the Chamber Music Society of Lincoln Center, the Miro Quartet and Lynn Harrell. CMS Co-artistic Director Wu Han and fellow pianist Inon Barnatan got things started with "Rhapsody in Blue," its familiar strains sounding freshly minted as Han and Barnatan played together on one piano.
I appreciate the ushers' mandate to restrict latecomers from entering the hall during the piece, which kept the energy focused on George Gershwin's upbeat masterpiece. (Although, given the trek from the parking garage, it's not hard to see why some would be late.)
For the second piece, Wu Han remained onstage, joined by violinist Arnaud Sussmann, violist Mark Holloway and cellist Andreas Brantelid, for Brahms' "Quartet in G Minor," in which the quartet coalesced beautifully, whether playing delicate, peaceful moments or revving up to an
almost silent-movie-chase energy. The audience resisted applauding after the first movement, but went against protocol by clapping in between the rest (that included Center for the Performing Arts Artistic Director Michael Feinstein and Carmel Mayor James Brainard, who sat in opposite boxes and, to their credit, avoided lengthening the show with speeches).
The two pieces combined into a long first act, leading a noticeable number of audience members to leave at intermission. Others who hung in for the second-act performance by Miro Quartet and Harrell tried to discreetly slip out between movements—which was particularly noticeable in the behind-the-stage seating. 
Those who bailed, though, missed out on a seemingly effortless read of Schubert's "Cello Quintet in C Major." With his Bert Lahr visage and central placement on stage, Harrell had the air of a teacher whose students had excelled and become his peers. Violinists Daniel Ching and Sandy Yamamoto, violist John Largess and cellist Joshua Gindele established a level of excellence that I look forward to seeing challenged—but don't expect to see beat—in future events here.
In hindsight, the length of the afternoon concert was its only deficit. Either of the groups could have held the stage on its own with a satisfying two-hour experience. A half-hour beyond that was a bit trying even for those thrilled at the sounds being created.
The opening night gala, on Jan. 29, was more of a mixed bag.
After the speeches, the crowd stood for a color guard arrival and then awkwardly remained on its feet through the Carmel Symphony Orchestra's performance of FerdeGrofe's "March for Americans." Then Feinstein took the stage with "Once in a Lifetime," the Sammy Davis Jr. staple from the musical "Stop the World I Want to Get Off." It's a tricky song to pull off, especially in this context, without sounding egotistical ("This is my moment … I'm gonna do great things"). But Feinstein was in good voice and the symphony players stepped up to the task.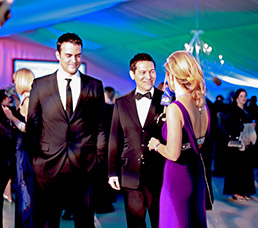 Artistic Director Michael Feinstein and singer Cheyenne Jackson schmooze at the Palladium opening gala. (Photo/ Tyler Varnau)
Following "My Romance," Feinstein took to emcee duties, which unfortunately meant the use of index cards, leaving a bit of a final rehearsal feeling. Guest Cheyenne Jackson was brought into the act as a shadow emcee, with the pretense that he was learning the ropes from the more experienced Feinstein. It was a fun idea, and led to some playful interplay. (After Feinstein mentioned the song "Where the Boys Are," Jackson added, "One of your favorites," which Feinstein topped with "It's a new day in Carmel, ladies and gentlemen.")
Jackson, star of Broadway's "Finian's Rainbow" and "All Shook Up," then took over for a short set that included a swinging "Don't Get Around Much Anymore."
Next up was Chris Botti and his combo, whose two-number set was strong (including a short, low-key take on Leonard Cohen's "Hallelujah") but left me wanting much more. While all the acts had wonderful things to say about the Palladium, Botti dug himself a hole when he inadvertently referred to Carmel as "the middle of nowhere."
The best-known of the acts was saved for last. The justifiably praised acoustics were not a friend to Dionne Warwick's voice, as she valiantly offered her hits "What the World Needs Now," "Alfie" and "That's What Friends Are For." Neil Sedaka, in turn, was like a friendly uncle taking the piano to offer approximations of "Laughter in the Rain," "Calendar Girl" and a mix of both the slow and speedy versions of "Breaking Up is Hard to Do."
And while some "Jersey Shore" jokes fell flat, Feinstein and Jackson gave a pick-me-up spin to "Me and My Shadow," with "Woody's"—just down the road on Carmel's main drag—dropped into the lyrics as the drinkery of note.
It may have been wiser to end the concert there. Instead, Feinstein stayed on for a double hit of "For All We Know" and an oddly husky "I'll Be Seeing You," then followed that with "We Dreamed These Days," written with Maya Angelou.
In theory, the number incorporated the Indianapolis Children's Choir which, unfortunately, was sonically lost behind the full-throttle Carmel Symphony Orchestra and the amplified Feinstein. Even in a world of outstanding acoustics, sound mixing is key.
Side note: Before and after both concerts, my stock question in conversation was, "What show are you most looking forward to this season?" Six times out of six, I was met with blank stares. Patrons just didn't know what was coming—which was odd since the schedule was announced months ago.
It didn't help that the program for both concerts didn't include any hint of who else was playing this season. Nor were brochures to be found near most of the exits.
My unscientific conclusion: It's tough to judge how ticket sales are going if key potential ticket buyers have no idea what's on the way. •
__________
This column appears weekly. Send information on upcoming arts and entertainment events to [email protected] Twitter: IBJArts and follow Lou Harry's A&E blog at www.ibj.com/arts.
Please enable JavaScript to view this content.