For health insurance brokers, business will never be the same.
The middlemen that match up employers with health insurance policies are about to have a brighter light shone on the commissions they earn from insurance companies. The likely result: Commissions will fall or flatline and, eventually, fall away in favor of fee-based business models.
That's bringing a transformation—and perhaps significant shrinkage—to an industry that accounts for more than $20 billion of the nation's nearly $800 billion annual bill for health insurance.
The immediate cause of this transformation is the new health reform law's 20-percent cap on insurance company overhead and profit. That restriction is causing major health insurers such as WellPoint Inc., Aetna Inc. and maybe even UnitedHealth Group to take steps to reduce commissions to brokers.
Their actions are accelerating a transition among benefits brokers from transaction-based commissions to consultative fees. But many brokers simply aren't ready for the new reality.
"Brokers are running scared right now," said Rod Reasen, who sold his insurance brokerage business, Mavum Consulting LLC, in November to Florida-based Brown & Brown Inc., which has made a half dozen acquisitions in the past three years to become central Indiana's largest benefits brokerage.
In January, Indianapolis-based WellPoint said it is changing broker commissions so they rise from year to year only if a broker's client adds more people to its health plan—not just because the insurance premiums rise every year.
WellPoint's Indiana subsidiary, Anthem Blue Cross and Blue Shield, had already adopted such a change several years ago, but now WellPoint will apply the change nationwide.
DeVeydt
"This will help flatline that cost trend," said WellPoint Chief Financial Officer Wayne DeVeydt. Since health insurance premiums typically rise 6 percent or more per year, he added, "Every year, these brokers were getting an increase for doing nothing."
In November, Hartford-based Aetna made a similar change in Indiana, switching its 6-percent commission for small employers to a $384 payment for every worker in a company's health plan. Nationwide, the change could reduce Aetna's commission payments a third or more—and keep them from rising much in the future.
Perhaps even scarier to brokers, beginning this year, Aetna will no longer fold broker commissions into the premiums they charge employers with 51 or more workers. Minnesota-based UnitedHealthcare is mulling a similar policy for Indiana employers with 100 or more workers.
That means brokers would have to fully disclose their commissions to their clients—and many fear their clients would no longer be willing to pay so much.
"If they see fee cuts, then a lot of them are going out of business," said Les Funtleyder, a portfolio manager of a health care mutual fund at Miller Tabak & Co. in New York.
The national trade association for health insurance brokers acknowledges as much. Janet Trautwein, CEO of the National Association of Health Underwriters, sent a letter to U.S. Secretary of Health and Human Services Kathleen Sebelius saying new health care rules are hitting the 500,000 health insurance agents and brokers with "devastating financial impact."
Those rules, adopted by Sebelius' agency in December, said broker commissions could not be counted as insurance premiums for purposes of determining whether an insurance company is spending at least 80 percent of the premiums it receives from customers to pay the customer's medical claims. Therefore, broker commissions are being considered an administrative cost—giving insurance companies every reason to try to cut it.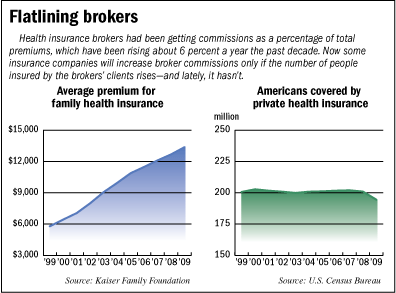 "Many agents are seeing a net reduction of their business incomes of 30 to 50 percent," Trautwein wrote on Jan. 28. "This means that fewer agents and brokers will be able to afford to stay in business, and many will have to begin reducing services to their clients and cutting jobs."
They may also sell to other companies—as has already been happening. In central Indiana in the past four years, more than 15 brokerage firms have been sold or merged.
The problem for brokers is this: Their traditional business model was to help an employer apply for health benefits with several insurers, in an effort to comparison-shop and find the best deal. But neither employers nor insurance companies see as much value in that service anymore.
Brokers have faced increasing demands from employers for help getting employees healthy through wellness plans—something that often requires expensive software to manage and year-round work to coordinate services from various outside vendors.
But many brokers, particularly those serving smaller employers, have not wanted to make the investments necessary for those efforts.
Brokers that have made such investments—generally those concentrated on larger employers—have tended to charge fees for their various services, rather than a commission for handling an insurance renewal once a year.
"We've had a shift now for quite some time with the larger employers to more of a consultative fee," said Dan Krajnovich, CEO of UnitedHealthcare in Indiana and Kentucky.
While UnitedHealthcare has not yet decided to no longer include broker commissions in the premiums it charges employers, Krajnovich said most brokers he talked to about the change were OK with it. "In the vast majority of cases, they felt like their clients are comfortable with their compensation."
Baking in commissions
Insurers, instead of employing huge sales forces to call on employers individually, use a much smaller staff to interact with brokers. Insurers pay commissions for every new contract, and even award big bonuses and lavish trips to brokers who place the most business.
Critics say this system gives brokers financial incentives to push one insurance company to as many clients as possible, rather than truly finding the best deal for each client's needs.
But perhaps a bigger problem is that many employers—especially those with 100 or fewer workers—have no idea how much their broker is earning from them.
For employers buying a full insurance product from WellPoint or UnitedHealthcare, the broker commission payments are just baked into their premiums—not separated out so the employer can see how much extra it paid for the broker's services.
And in the process, they have been paying commissions—every single year—of 3 percent to 6 percent to as high as 10 percent. Commissions for switching to a new insurer are often substantially higher to entice new business.
And since health insurance costs have spiked in the past decade—those commissions can be quite hefty.
For example, for a company with 50 workers, half buying family coverage and half buying single coverage, total premiums last year would have been about $470,000, according to averages calculated by the California-based Kaiser Family Foundation.
If the company bought its insurance from Aetna, the Hartford-based insurer would have included a 6-percent commission for the broker, which would have topped $28,000.
Under Aetna's new rules, a broker for that same employer would now earn a commission of about $19,000.
"Most of the employers out there, that are less than 100 covered lives, they don't know what their broker is making," said Joe Guzman, founding partner of Ascend-USA, an Indianapolis-based benefits brokerage. The health care reform law, he added, is "kind of causing everybody to really look at things and ask, 'What does our broker get paid and what does our broker really do?'"
Guzman and others predict that the broker business will shift—even among small employers—to a fee-based model, which will be disclosed openly and up front in any relationship.
"There's less of a need to shop my insurance as there is to bring a solid strategy for reducing costs. The broker has to become much more consultative in nature," said Reasen, the broker who sold his business. He is now focusing on a second company he started, Healthiest Employers LLC, which helps employers evaluate and improve their wellness programs. "In the future, I think broker commissions will go away entirely."•
Please enable JavaScript to view this content.