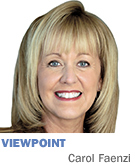 I recently spent some evening hours at City Market. Living downtown, there are many choices for where to spend an evening—City Market is usually not in anyone's Top Ten.
But up on the mezzanine level, you will now find a bar, the Tomlinson Tap Room, named after Tomlinson Hall (built in 1885, destroyed by fire in the 1950s). One can still visit what remains, The Catacombs, an architectural gem beneath the market's west plaza. The Tomlinson Tap Room offers 16 Indiana craft beers, as well as wine and food from vendors in the market. I'm happy to say there was quite a crowd.
This enterprise has been created as a profit center, a joint venture between the market and the Brewers of Indiana Guild, intended to decrease some of the taxpayer liability of the government-owned structure.
There is a sense that the bar belongs there. For one thing, the bar itself is an authentic piece, carefully restored, that dates to the 1920s. The tops of the tables and other materials used in the décor likewise have a history.
Sitting in this bar feels right because, not only does it integrate well with the history of the place that it inhabits, there is also a rich story attached to it. Neglecting this aspect is, to a great degree, what has caused the City Market to lose its appeal, to struggle with its identity and modern relevance.
I don't know why the renovation that was announced last summer has been delayed. But in viewing the past renovation, which is an abomination of what a City Market should feel like, look like and how it should serve the community, instills in me the fear that we still may not get it.
The original City Market building was and is a beautiful structure. In its day, it was the place to go to fill the pantry and nurture spirits. I remember going with my Italian grandmother to buy olive oil and pasta. The market was a place of magic, of diversity, of satisfying smells and a feast for the eyes. Every stand was unique, yet it all blended together in such a way that we still talk about how great it was.
It hasn't been great for a long time. And that is a tragedy, because it could be again. The emotions that are stirred when one is in a great space are timeless. How much time has been spent, I wonder, over how to create a sense of connection with people compared with product offering and a space plan? Is anyone thinking about how we incorporate story, memory and experience?
City Market's main building is a grand and voluminous space. Part of the experience should include a first impression that inspires. Today, the space is cut horizontally in half by an unsightly electrical grid, courtesy of the last renovation. It's as frustrating as looking into a low-hanging mirror that cuts your head off. The old photos of the market remind me of the Registry Hall at Ellis Island. When I enter that space, I am able to imagine what happened there, imagine the experiences of those who sat there 100 years ago. This is what I want for City Market. I want City Market to feed both our stomachs and our souls.
City Market deserves to be a part of the legacy we pass on to the next generation. Unfortunately, it hardly appears on the radar for the current generation because we have failed to keep its meaning alive. We have lost the stories. We have let its potential and relevance be overshadowed by political agendas and ego.
It looks like we might have one last opportunity to get it right, to reclaim what has been lost, to create something authentic. I hope it won't turn out to be, once again, a costly endeavor that does not satisfy or succeed.
Experiencing the scene at the bar gives me hope, and seeing the new vendors coming in gives me hope. But please, can we take down that grid?•
__________
Faenzi is a consultant, public speaker and author of "The Stonecutter's Aria." She can be reached at cfaenzi@aol.com.
Please enable JavaScript to view this content.