Roche Diagnostics Corp. is expanding one of its Indianapolis manufacturing plants to keep up with growing sales of its leading brand of blood glucose monitors.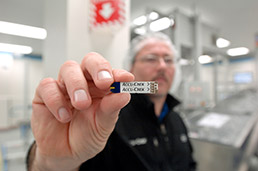 Trent Coy, a Roche Diagnostics production technician, holds up a blood-glucose monitor strip. (IBJ Photo/ Perry Reichanadter)
The Swiss-based company, which runs its North American operations out of Indianapolis, is spending $37 million to build out a nearly 30,000-square-foot wing of its plant that makes the test strips used in its monitors.

The project, expected to be complete at year's end, will add 50 to 60 jobs to Roche's local operations. With nearly 3,000 workers in Indianapolis and Fishers, Roche is the 20th-largest employer in Indiana.

Even though Roche's diabetes care division has struggled in the United States recently, globally it is enjoying double-digit growth in demand for its Accu-Chek Aviva meter, which is sold under the name Performa in many international markets.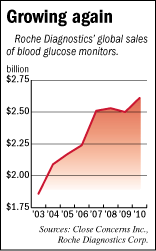 Patients using the meters place a drop of blood on a 1.5-inch strip of paper covered with a thin gold electrode and coated with chemicals, which test the level of sugar in a patient's blood.

All the strips used in Aviva meters are made in one of two plants: one in Ponce, Puerto Rico, and the other in Indianapolis—just off Interstate 69 along Hague Road. The Aviva meters themselves are made in Alabama.

The Puerto Rico plant will max out its capacity in a couple of months. So Roche workers are busy installing equipment in a vacant wing of the Indianapolis plant to keep up with the growth.

The expansion is expected to boost capacity here by two-thirds, from about 1.8 billion strips a year to roughly 3 billion. Production volumes in Indianapolis have grown nearly 44 percent in the past three years, and Roche expects another 30-percent boost over the next three to four years.

The plant currently employs 120 production workers.

"We've been investing more on the single-strip platforms, Performa and Aviva," said Brian Heald, vice president of manufacturing operations for Roche Diagnostics' Indianapolis headquarters. "We've realized significant growth in that platform on a global basis."

Roche is riding a rising tide of diabetes around the world. The International Diabetes Federation expects the number of people suffering from the chronic illness to leap from 285 million last year to nearly 440 million two decades from now.

Much of that is due to aging populations in developed countries like the United States and Japan. But at the same time, economic growth in Asia has created a huge middle class with the incomes to eat like Westerners—and to pay for the medical conditions those Western diets induce.

Roche does not break out how its diabetes products are selling in individual countries. But its overall diagnostic sales last year jumped in Asia 20 percent and in Latin America 16 percent.

"Self-monitoring is fast catching up in developing countries," reads a January report on diabetes diagnostics from Global Industry Analysts, a California-based research firm. "In these markets, diabetes-screening programs are likely to drive increase in patient awareness."

Indeed, Roche is promoting patient education in emerging markets as a way to boost sales and use of its products.

Roche claims an industry-leading 31 percent share of the global market, according to data compiled by Close Concerns Inc., a San Francisco-based diabetes market research firm. Its blood glucose monitors racked up sales of $2.6 billion last year.

Roche is one of four major players in the $8.5 billion industry, along with Illinois-based Abbott Laboratories; Germany-based Bayer Corp.; and LifeScan, a unit of New Jersey-based Johnson & Johnson.

Roche's brand is strong in its home territory of Europe. But in other mature markets—the United States and Japan—Roche's diabetes franchise has struggled mightily. Sales of its diabetes products fell 2 percent in the United States last year to $680 million.

Those totals include sales of Roche's insulin pumps, which add $25 million a year to its total, according to 2009 estimates from Close Concerns. Roche's U.S. insulin pump business is operated out of Fishers, just up the road from the Indianapolis campus.

"They've made several, several mistakes," said David Kliff, a former portfolio manager who now writes an industry newsletter called The Diabetic Investor. As Kliff sees it, Roche was slow to adapt when U.S. health insurers and retailers started demanding lower-priced products, and lost market share as a result.

In addition, Roche tangled with the U.S. Food and Drug Administration over an enzyme it uses in its test strips, which has so far prevented Roche from introducing its newest products into the U.S. market.

"Now, they're in serious danger of becoming a bit player here in the United States," Kliff said.

In part, Roche's expansion in Indianapolis is merely part of its natural product cycles. The plant space in Indianapolis was, up until 2009, used to make Roche's older Comfort Curve strips, which will over a period of years be phased out.

But Roche consolidated production of the Comfort Curve strips in Puerto Rico to gain efficiencies of scale. That freed up the space in the Indianapolis plant, which is now being filled as Roche grows Aviva to replace its older models of glucose monitors.

But even with the growth, Kliff noted, pricing pressures from U.S. health insurers and government health agencies around the world have crimped profit margins on blood glucose meters.

Roche has done well with the Aviva meter, but it's one of Roche's lower-margin meters, Kliff said. An Accu-Check Aviva kit, including 10 test strips, can be had for $15-$20 at retail stores. Strips cost about $1 apiece, coming in bundles of 50 and 100.

"With the increased emphasis on costs, they're going to be forced to compete at a lower price point," he said.

Shrinking margins helped drive Roche's Indianapolis expansion. With newer equipment, as well as a set-up that incorporates the best practices Roche has learned from its other manufacturing facilities, it can increase its efficiency, noted Heald, Roche's local chief of operations.

"We're constantly optimizing the cost structures to make sure that we're bringing the most economic benefit to the market," he said.

And to the bottom line. Kliff noted that savings of a quarter-penny per strip could add hundreds of millions of dollars straight to the bottom line because Roche is making 2.8 billion strips per year now and will ramp up even more with the expansion.

Globally, Roche has been fueling sales by introducing a smaller version of the Aviva, called the Nano, as well as a combination product that links the Aviva monitor with an insulin pump.

Roche's competitors already were rapidly growing those combination products before Roche got in the game with its 2010 acquisition of Israel-based Medingo Ltd.

Roche hopes to win regulators' approval to introduce both products in the United States this year. •