Community service is a major component of veterans clubs like Indianapolis-based American Legion, but a new study shows not all military personnel are Boy (or Girl) Scouts in the making.
"There is a connection between military service and civic engagement for some groups of veterans, but the overall relationship is not that robust," said David Reingold, professor in the School of Public and Environmental Affairs at Indiana University. Reingold and Rebecca Nesbit, an assistant professor of nonprofit management at the University of North Carolina, recently published a study about veterans and volunteering in "Public Administration Review."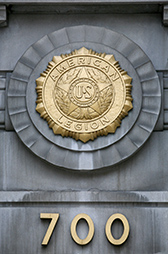 American Legion sponsors community-service programs, but not all veterans want to volunteer. (IBJ File Photo)
The professors drew on supplementary data about volunteering habits that the Census Bureau gathers as part of its monthly Current Population Survey. (Reingold worked to have the volunteering supplement added to the survey in 2002, when he directed the office of research of the U.S. Corporation for National and Community Service.)
Some types of veterans are more likely than their civilian counterparts to volunteer, the professors found. The more service-minded veteran groups are married people, African-Americans and Hispanics. Veterans who served during wartime were also more likely to volunteer.
Unmarried white veterans were less likely to volunteer than civilians in the same demographic.
What's to explain the trend? Reingold and Nesbit think it has to do with the culture of the military. Since the draft was eliminated in 1973, they say, people join the military for "occupational and economic opportunity."
Please enable JavaScript to view this content.