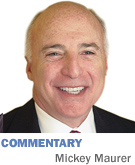 It's been almost a decade since Janie and I visited William Conner's home in Prairietown for a hearthside supper, but nothing has changed—it's still 1836.
Lest you think time travel is the exclusive realm of books and movies, you are wrong.
Conner Prairie, an outdoor immersion history museum, offers modern-day time travelers an opportunity to experience long-ago life on the prairie at the Conner residence in what is now Fishers.
In the early days of Indiana statehood, William Conner was a pioneer who traded with the Indians and speculated in real estate. He became a major landowner, a statesman and a wealthy businessman. (A member of the Conner family established another town in Indiana. Can you guess its name?)
In the 1930s, thanks to the enlightened philanthropy of Eli Lilly, the William Conner estate was restored. Located on 1,400 acres, seven miles north of Indianapolis on White River, Conner Prairie has become home to a re-created 1836 village called Prairietown.
The hearthside supper program began in 1984 and has educated and entertained more than 7,000 guests. The experience begins with a short stroll back in time along a lantern-lit wooded path. By the time you reach the cabin's front door, you are sufficiently past-urized. There is a drawback. You have to help cook.
I churned butter with the able assistance of architect Don Altemeyer while Janie made the biscuits. Banker Dennis Bassett ground the coffee beans. Each of the dozen guests pitched in. The menu was created based upon recipes from early 19th century cookbooks. (Don't tell a soul. The beef and chicken did not come from the farm. It was purchased at Kincaid's.)
Dinner was delicious—especially the buttered biscuits and the dessert, a concoction of pie paste topped with jam and cake batter called "maids of honor."
Dinner by candlelight at the Conner House is a lively affair where costumed interpreters teach and demonstrate history by assuming the roles of fictional yet historically accurate characters. To maximize the experience and enjoy the conversation with the hosts, a bit of basic information about the era should be learned (see sidebar). It was great to see my old friend Ezra Higby, not one of the more sober citizens of Prairietown. Higby, played by actor Eddie Grogan, is in his 27th year of service to Conner Prairie. After dinner, he played the fiddle and told yarns.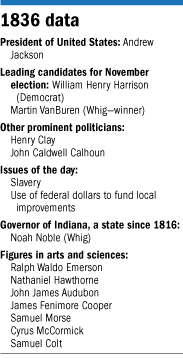 This June, Conner Prairie will launch a new immersive experience that will bring to life the Civil War era. Using projected images and video along with hands-on experiences and live action, it will relate the story of Gen. John Hunt's cavalry raid through Indiana. Guests will take on the role of civilian volunteers from Indianapolis sent south to defend the state from the rebel raiders.
Conner Prairie is a nationally recognized treasure easily available to central Indiana would-be pioneers. In 2010, Conner Prairie received the National Medal for Museum and Library Service, which was presented to Ellen Rosenthal, president and CEO, by first lady Michelle Obama in a ceremony at the White House.
As I said almost a decade ago, you don't need a DeLorean or flux capacitor to enjoy one of our nation's leading living history museums. You simply need to contact Ellen Rosenthal (Rosenthal@connerprairie.org) or Conner Prairie's visitor services department at 776-6006 and make a reservation.•
__________
Maurer is a shareholder in IBJ Corp., which owns Indianapolis Business Journal. His column appears every other week. To comment on this column, send e-mail to mmaurer@ibj.com.
 
Please enable JavaScript to view this content.