Alignment shops and dentists started celebrating last September.
That's when contractors hired by the city began milling worn-out asphalt on downtown streets. They put down a rough skim coat of new asphalt before the snow settled in, but most streets remained unfinished.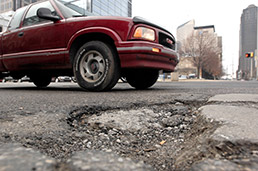 The usual pothole problems were complicated this winter by the half-finished paving that contractors began last fall, leaving uneven pavement and raised manhole covers. (IBJ Photo/ Perry Reichanadter)
Raised manhole covers, exposed streetcar tracks and uneven pavement have rattled teeth of downtown commuters and have twisted tie-rods.
"If you have a vehicle with a stiff suspension, it will beat the hell out of you," said Curtis Ailes, a product design engineer and urban enthusiast who publishes HustonStreetRacing.com and writes UrbanIndy.com.
Downtown motorists and bicyclists like Ailes finally are getting some relief.
The Department of Public Works said paving is resuming as the weather warms and asphalt plants are fired back up for the season.
If it seems extraordinary that the city started so much street work before winter and left the work undone for months, it is.
"We definitely acknowledge there are areas of downtown that appear unfinished. That's because they are," said Sarah Holsapple, spokeswoman for DPW.
The reason is Mayor Greg Ballard's "RebuildIndy" initiative, a $425 million project being funded in part from anticipated bond revenue from the sale of the city's water utility to Citizens Energy Group. The county-wide infrastructure program includes $9 million being spent downtown to pave, repair curbs and sidewalks, and upgrade traffic signals.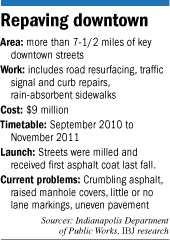 Street projects that ordinarily would not have begun just before winter were started last fall because so much work is scheduled countywide in the months ahead, DPW said. The suspension in paving downtown over the winter does not amount to a delay, but was part of the plan all along, it seems.
"The projects are on track despite the winter elements," Holsapple said.
That's little consolation to those who bent a rim on a manhole cover or slammed into a pavement cut. The city in recent months asked contractors to come back and smooth out rough patches until the final pavement goes down.
"We got calls from residents saying, 'Hey, this can't go on for three or four months'" longer, Holsapple said.
Among areas where paving has resumed is Vermont Street, between Pennsylvania and Meridian, where Ailes' car took a pounding. Among others already under way or soon to be are Pennsylvania Street between Maryland and Washington, New Jersey Street between Ohio and Michigan, Illinois Street between Maryland and Washington, and the intersection of Ohio and Pennsylvania streets.
The paving work is separate from the street work that has continued nonstop over the winter, involving the relocation of underground utilities.
Numerous lanes have been closed on a roving basis, making downtown a virtual convention for manufacturers of electronic arrow boards.
Much of this work is to move utility lines and steam pipes to make room for storm water drainage systems for the $63 million Indianapolis Cultural Trail. The trail, under construction since 2007, is an urban pedestrian and bicycling corridor that connects neighborhoods and downtown venues.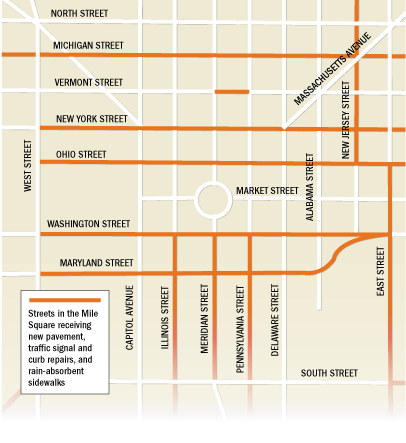 The most recent work on the trail began this month along Virginia Avenue, starting at Maryland Street and running southeast under the Conseco Fieldhouse parking garage.
Some of the storm drains to catch runoff from the spiffy trail surface are as large as 12 inches in diameter. Citizens Energy is raising/lowering its buried steam pipes to accommodate the new drains, said Citizens spokesman Dan Considine. Citizens' Thermal division provides steam to heat 250 downtown buildings and chilled water that cools 60 buildings.
"Given the density of all the utilities under the downtown streets, some interference with existing utilities is difficult to avoid," Considine said of the challenge.
While construction-weary motorists and bicyclists will have to endure more street work in the months ahead, there are some things contractors could do to ease the pain.
Last fall, Ailes was bicycling on a bike lane recently added to a downtown street when his path was obstructed by a generator for one of the arrow boards. He noted that other cities, such as Portland, Ore., that have embraced bike lanes— something the current city administration has received kudos for expanding—often designate a detour for the bike lane, as well as for motor vehicles.
The city may have bigger issues in the construction season ahead as oil prices continue to soar on Mideast instability. Oil is used as a binder for asphalt.
A ton of asphalt binder cost an average $462 in February, according to an index published by the Indiana Department of Transportation. That's $29 less than the same month in 2010.
"We haven't seen the [oil price] impact on the materials just yet," said Steve Sweet, a manager at Calumet Civil Contractors in Whitestown.
But some in the business think a ton of binder could approach $700 if the Mideast situation continues to roil, he added.
Don't expect such a scenario to have an effect budgeting for the downtown paving projects, though.
"The projects that are currently bid are fine," Holsapple said.•
Please enable JavaScript to view this content.