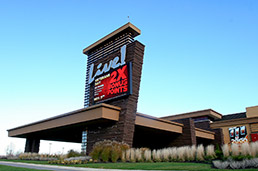 Two companies have expressed interest in buying Indiana Live racetrack and casino. (IBJ File Photo)
Two racetrack owners have signaled they're interested in buying Indiana Live racetrack and casino in Shelbyville as the facility begins to sort out its massive debt.

One potential bidder—Indianapolis-based Centaur LLC, owner of Anderson's Hoosier Park & Casino—has publicly expressed a desire to buy its only in-state racino rival.

Centaur, which is emerging from bankruptcy after gaining approval for its reorganization plan last month, would be able to spread its marketing costs across two venues and reap savings by consolidating back-office operations.

Louisville-based Churchill Downs Inc. has been less explicit about its interest in Hoosier Park. But some observers say the company may want back into the state now that Indiana permits slots at its racetracks. Churchill Downs sold majority ownership of Hoosier Park to Centaur in 2007, shortly before the Indiana General Assembly passed slots legislation.

Both companies hinted at their interest in Indiana Live in a February court filing that settled a dispute over millions of dollars Centaur still owed the Louisville company for the Hoosier Park purchase.

As part of the settlement, the parties amended an agreement struck four years ago that barred Centaur from buying or opening another racing venue in certain Indiana counties and Churchill Downs from buying or opening a facility in the state. The amended version exempted Indiana Live from the restrictions.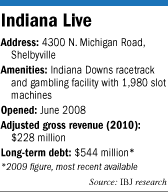 In a later filing, Centaur Chief Financial Officer Kurt Wilson explained the agreement "allows both Centaur LLC and the Churchill Parties to pursue an acquisition of Indiana [Live]."

The maneuvering comes as state lawmakers review a bill that would eliminate a prohibition on an operator's owning more than one track. The bill has passed the Senate and is in the House.

Centaur, which used its bankruptcy to sell out-of-state holdings and is slashing its debt by more than $600 million, says it's ready to deal, should Indiana Live be interested in selling.
"We have a definite interest in acquiring Indiana Live at a price that makes sense," said John Keeler, Centaur's assistant general counsel.

Backyard competition

For now, Indiana Live's owners say they aren't mulling a sale.

Ross Mangano, chairman of Indiana Live's controlling shareholder, South Bend-based Oliver Racing LLC, said he is focused on trying to restructure the company's debt without filing for bankruptcy.

Once that process is complete, Mangano said, the company would be in a better position to assess buyer interest.

"If [sale] opportunities came up," he said. "I'd have to look at them."

What becomes of the company's debt—$544 million as of 2009, the most recent period available—certainly would affect its sale appeal.

Indiana Live's problem is the massive debt, not its ability to generate revenue.

Indiana Live brought in $244 million in 2009, according to a financial audit. But the revenue stream hasn't been enough to cover expenses, which include massive interest payments.

In November, Standard and Poor's downgraded Indiana Live's credit rating to D after the company missed an interest payment.

Both Indiana Live and Hoosier Park borrowed heavily to pay the state's $250 million slots-license fee and to build their gambling facilities. They say steep state tax bills also have dragged down results.

Centaur officials think owning another nearby track could prove to be a financial advantage.

"As we've struggled with this tax and fee structure, we've continued to try and look at anything we can to maximize revenues and minimize costs," Keeler said. "We believe there's an opportunity to wring some efficiencies out of operating two tracks."

Under its bankruptcy plan, Centaur would exit with about $270 million in debt. Financial advisers have estimated the company's worth about $340 million after bankruptcy. In addition to Hoosier Park, Centaur owns three off-track-betting parlors in Indiana.

Recent investments in the company by Toronto-based private equity management firm Clairvest Group Inc. and its equity partners also have put Centaur on stronger financial footing. The firm announced in February that it has amassed 67 percent of Centaur's senior debt.

"I think they're in a perfectly strong financial position to go and purchase someone else," said Ed Feigenbaum, publisher of Indiana Gaming Insight newsletter who has covered both companies' interest in Indiana Live. "You've got to look at your opportunities, and here you've got something in your own back yard that's a competitor."

A creditor-driven sale?

Centaur officials have made it clear they would want to buy Indiana Live only through a mutual agreement.

But it's possible creditors of Hoosier Park and Indiana Live could use their clout to push for a deal. Creditors—especially any owed money by both companies—would benefit if common ownership boosted profits, thereby increasing their returns.

And if Indiana Live were to file for bankruptcy, or were forced to, its creditors could lobby for combining the operations as part of a restructuring plan.

"It is possible that the bankruptcy court could approve a consolidation if there were strong parties with strong interest in the case advocating, and the hearing justified that as being in the best interest of the bankruptcy estate," said Charlie Greer, a longtime Indianapolis bankruptcy lawyer who is now a small-business investor.

He added that such a plan also would require sign-off from state agencies that oversee the operations.

In the process, Oliver Racing potentially could lose its stake in the track.

Doug Brown, an Indianapolis attorney who represents Indiana Live, is publicly opposing the bill written by Republican Sen. Ron Alting, that would allow a company to own both tracks.

"It would introduce a new level of uncertainty," Brown said, "that we fear could work to the disadvantage of Indiana Live's Indiana ownership."

Centaur officials, as well as Alting, say such fear is speculative, since it's not clear the racinos have common creditors.

Up or down?

Churchill Downs, which is publicly traded, has been cagey about interest in Indiana Live. A company spokeswoman said via e-mail that it doesn't comment on potential acquisitions.

Experts say, however, that Churchill Downs would be well-positioned for an acquisition. Jeff Thomison, an analyst with Louisville-based Hilliard Lyons who has followed Churchill Downs for a decade, noted in a recent report that the company recently added a $375 million credit facility.

Because Churchill is seeking growth opportunities and has the financial strength to make acquisitions, it might be open to acquiring a racino, he said.

"It sounds like they want to keep all options open and see what kind of economics that business has," Thomison said, "and, more importantly, what the asking price might be."

Thanks to their slots revenue, racinos tend to be more lucrative than stand-alone tracks. The slots money allows Indiana's tracks to stage higher-quality races and gives the facilities an advantage over competitors in neighboring Kentucky and Ohio.

Ray Paulick, publisher of horse-racing website Paulick Report, said acquiring another facility could give Churchill Downs management efficiencies as well as leverage in negotiating simulcast rates.

But those advantages may not overcome the industry's doldrums, which some experts say make Indiana Live—like any gambling facility with a track component—less appealing.

Churchill Downs has four tracks, two with gambling operations. Recently, though, the company has invested more in other ventures, such as a Mississippi casino and resort, and an online gambling site.

That, too, could dim prospects of an Indiana Live purchase.

"I think where they're heading as a company is more online gaming," Paulick said, "rather than brick-and-mortar facilities."•