Gard
Cities and towns would lose the power to annex land against the owners' will, under a bill that easily cleared the Indiana Senate.
Hancock County Republican Beverly Gard said she wrote the annexation overhaul in response to various "forced" annexations over the years but most recently in Carmel and Fishers. The targeted neighborhoods tried to have the annexations overturned, but ultimately lost or gave up the legal fights.
Under Gard's bill, municipalities would first have to get signatures from 60 percent of affected landowners, or from landowners with 75 percent of the assessed value in a targeted area.
Currently, municipalities need no approval from affected owners before annexing. If owners don't want to be annexed, they must gather signatures to file a remonstrance.
"It places the burden on the municipality, whereas now the municipality can move forward, and the burden to stop it is on the property owner," Gard said. A former Greenfield city councilor, Gard now lives in unincorporated Hancock County.
No surprise, the bill's chief opponent is the Indiana Association of Cities and Towns.
"It's not always that cities are evil and want to come in and stick everybody up for the tax revenue," Executive Director Matt Greller said.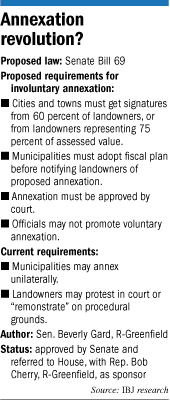 Greller is concerned about a provision in Gard's bill that prohibits officials from even making presentations to neighborhoods about voluntary annexation. That could stymie municipal efforts to extend sewers and replace failing septic systems.
Municipalities also see annexation as the key to economic growth because it brings in tax revenue to support new infrastructure, which in turn attracts business.
"This is another attempt by the Legislature to take something away," Greller said.
Gard said she tried to address concerns about economic development by allowing for the annexation of industrial parks or retail centers that aren't contiguous to municipal boundaries.
Greller said that doesn't help cities and towns.
"Generally, it's cost-prohibitive to do spot annexations," he said.
The annexation overhaul is the first measure of its type to clear the Senate in many years, Gard said. The fact that the most contentious cases are in the past helped the process, she said.
"The committee hearing was much smoother when you didn't have two groups standing there shouting at each other," she said.
One roadblock is the Democrats' walkout over collective-bargaining and school-voucher legislation. Even if Democrats return soon, the clock will be ticking on more important matters, such as passing the state's two-year budget.
Gard said Speaker Brian Bosma favors her bill. She said she hopes he'll schedule a hearing, but won't push the issue if he doesn't.
"He's got bigger fish to fry," she said.
Bosma spokeswoman Tory Flynn said the speaker would not comment on pending Senate bills.
"Our focus has been the House bills," she said.
The stalemate is the one thing working in Greller's favor. Gard's bill seems to have more momentum than past shots at annexation, he said.
"We've got our work cut out for us," he said.
Indiana has one of the most liberal annexation laws in the country, said Jamie Palmer, senior policy analyst at the Indiana University Public Policy Institute.
"It is really tipped toward municipalities. There's no doubt about it," Palmer said. Many other states require the approval of affected residents or landowners.
At the same time, Indiana's current law has built-in restrictions that keep cities and towns in check, Palmer noted. Annexation targets have to be subdivided for residences, or zoned for industrial or commercial use.
"You can't just go out and annex any old farmland," Palmer said. "That does limit, basically, land-grabbing."
There are other ways to give homeowners more say in the annexation process, Palmer said. One might be to expand the criteria under which judges may review landowners' remonstrances.
"The current guidelines revolve strictly around procedural matters, so cases rarely even get a hearing," Palmer said.
State-mandated property tax caps are what finally ended a four-year battle between the town of Fishers and Geist United Opposition. The residents' group decided in 2009 not to appeal a judge's decision because the caps negated the expected hike in tax bills.
Now the president of that group, Pete Peterson, is running for a town council seat, representing about 5,500 people who live on Geist Reservoir. If elected, Peterson said he probably would oppose the town's pursuing involuntary annexations.
Peterson thinks municipal officials should have to sell targeted residents on their services. That's something Fishers didn't try to do in Geist, he said. "They could've sold the deal and avoided a 3-1/2- or four-year fight."
Cities and towns have slowed their expansions because of a restriction on new annexations ahead of the decennial census and because this is a municipal election year. Palmer said she expects activity to resume soon, as cities look to capture property- and income-tax revenue.
"The more fiscal pressure that's put on municipalities, they're going to be looking for ways to maintain their services," she said.•
Please enable JavaScript to view this content.