Aida McCammon, a native of Peru who has been a U.S. citizen since 1996, responds to the complications of today's immigration debate with a simple philosophy. Like it or not, she said, the immigrant community already exists, so "let's deal with the people who are here."
That mind-set has driven her passionate service to Indiana's Hispanics for 20 years, and it motivated her in 2001 to found the Indiana Latino Institute Inc., a not-for-profit born to fight tobacco use that has since developed into a clearinghouse of services.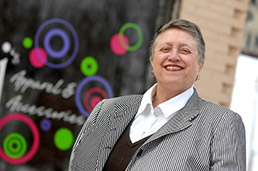 Aida McCammon formed the Indiana Latino Institute to fight tobacco use among Hispanics. (IBJ Photo/ Perry Reichanadter)
ILI is still the statewide leader in smoking prevention and cessation among Hispanics, but it now also promotes higher education for Hispanic youth, teaches prenatal care, hosts an annual conference for the professional development of Latino women, and offers translating and interpreting services. It has a staff of seven and an annual budget of $1 million.
The institute owes its existence to McCammon, 63, who retired from ILI last month.
A new arrival
McCammon's American story began in 1983, when she came to Indianapolis through a four-month exchange program that allowed her to perform work in the United States similar to her job as an attorney in Lima. The difference was, her job with city legal services here was a tad safer than her role as a prosecutor for the attorney general in Peru, where her cases often involved Colombian drug cartels.
Shortly after returning home to Lima, she hosted a visiting Indianapolis colleague, who was horrified by the dangers she faced. He arranged for her to come back to Indianapolis, where a dean at IUPUI encouraged her to pursue a master's degree in social work.
"I'm not a social worker," McCammon told him.
"How do you know you're not?" he asked. "What do you know about social work in the U.S.?"
McCammon decided he had a point. It turned out she was perfectly suited to social work; she never sought admittance to the Indiana bar and never again worked as a lawyer. She began working for the Hispanic Center in Indianapolis, which provided local health and education services, while finishing her degree. Ever since, she has been committed to serving the people she calls "my community."
Monica Medina, an IUPUI professor who was McCammon's supervisor at the Hispanic Center and later served on ILI's board, echoed that McCammon is "very, very committed to the community."
A particular strength is an empathy that allows her to "bring together the diversity of Latinos," Medina said. That zeal for inclusiveness comes in handy when helping Hoosier Hispanics from 21 different countries, she said, but McCammon's "very loving" nature "finds good in people."
Seeking health care equality
McCammon worked at the Hispanic Center until 1995, even filling in as acting director. She saw how language, but also cultural, barriers hindered Hispanics' health care treatment. For example, when a patient arrived for a doctor's appointment with his entire, multi-generational family in tow, that rattled the medical staff into not handling the patient well, she said. Also, patients who didn't speak a word of English were asked to sign documents written in English, and interpreters were nonexistent.
McCammon took her concerns to officials at Wishard Hospital, the treatment destination of many immigrants.

"What can we do to solve this?" she asked.
Wishard brought her on staff to look for answers. The result was a three-year plan that included not only interpreters and medical forms written in Spanish, but also signs written in Spanish, cultural training for staff, Spanish classes for English-speaking employees, English classes for Spanish-speaking workers, and health education for Hispanic patients. The program was so successful that it became a model for other hospitals across the city and state.
Haydee Adams worked for McCammon at Wishard as a bilingual advocate. She said everything McCammon did, she did well.
"If she applied for a grant, she got the grant," Adams said.
McCammon held Adams and four interpreters to strict standards, expecting them to give their all, as she herself did.
"Our department was doing a great job because Aida was in the front," Adams said.
The seed McCammon planted has grown into a service that stretches across Wishard's entire health care system. The main hospital alone employs 19 full-time interpreters and seven part-timers, and 15 more are available on call.
Tackling tobacco addiction
McCammon's drive to stamp out tobacco use in the Hispanic community began through her work at Wishard. At a meeting in Chicago in 2001, she met the director of a national anti-tobacco program targeting Latinos. She convinced the woman to conduct her Midwest seminar in Indianapolis, then asked Wishard to sponsor a statewide initiative. When hospital officials explained that Wishard's reach is limited to Marion County, McCammon and a colleague decided to start their own initiative.
"I always like challenges," she said.
They applied for a grant from the brand-new Indiana Tobacco Prevention and Cessation. When they were awarded the funds, ILI was born. The organization soon broadened its services to include other forms of health education, and is still expanding its reach. That now extends to college scholarships and internships as part of its goal to promote higher education for Latinos.
McCammon brought her lead-by-example style and tough standards from Wishard to ILI.
Maria Tishner, ILI program director, has worked for McCammon in both organizations.
"When you do something, it has to be done well," Tishner said. And the staff can see how much "she loves her community," which inspires them to serve better.
McCammon said seeing Latino youth educated has been one of the most rewarding aspects of her service. Giving young people opportunities and working with families on health goals pushed her through the never-ending funding struggles and the discouragement of renewed immigration controversies.
But tobacco cessation is still ILI's strongest focus. The National Center for Health Statistics estimates that 16 percent of Latinos smoke. And McCammon has even more reason now to want that figure trimmed. Her husband, Wiley, a lifelong nonsmoker, has throat cancer. Doctors have told the couple that secondhand smoke is the likely culprit. Caring for her husband is the only pull strong enough to draw her away from ILI. It's the cause for her early retirement.
Moving on
McCammon has high hopes for ILI's future without her. The challenges have increased with the burgeoning Latino population, she said, but so have the resources ILI provides. Indiana's Hispanic population now totals nearly 300,000, according to the 2006 American Community Survey.
And she's thankful for the unlikely circumstances that brought her to Indianapolis and have kept her here: A last-minute glitch in her exchange program that sent her here instead of New York City; a generous new friend in Indianapolis who opened her home to McCammon and lent her $16,000 to pursue a master's degree; the young Hispanic woman who encouraged McCammon's future husband to donate belongings to the Hispanic Center instead of Goodwill, bringing him into McCammon's life.
Indiana has always been a welcoming state, and "very friendly to me," McCammon said. She hopes her two decades of work in strengthening the Latino community and bridging cultural gaps helps return—and broaden—that Hoosier hospitality.•
Please enable JavaScript to view this content.