You can never count out Noble Roman's.
The Indianapolis company founded in 1972 has evolved from a chain of sit-down family restaurants to a franchisor of small pizza shops in hospitals, bowling alleys and gas stations, to a dual-brand concept offering pizza and subs. Now, it's gaining ground in the grocery business.
Noble Roman's franchisees continue to operate about 800 stores in a variety of formats, but the chain's growth engine has shifted to grocery. A new take-and-bake pizza program, launched in 2009, offers pies in more than 550 grocery stores including Marsh Supermarkets.
Take-and-bake accounted for a whopping 12 percent of the company's revenue in the fourth quarter of 2010, up from 2.5 percent in the first quarter. And in January, Noble Roman's added deep-dish lasagna, cheesy breadsticks, pasta sauces and cheese tubs to its grocery lineup.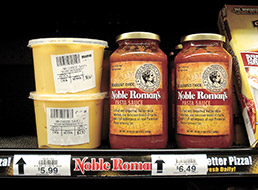 Noble Roman's has been selling products in more than 550 grocery stores. (IBJ Photo/ Perry Reichanadter)
The grocery store program is based on licensing agreements with the stores, which buy products from Noble Roman's at a markup in lieu of royalty payments, said Noble Roman's CEO A. Scott Mobley. Stores can offer the products with a minimal initial investment, and existing deli staff members prepare the pies with the same ingredients used in the chain's restaurants.
The program has been a hit with customers of the 24 Buehler Foods stores in Indiana, Ohio and Illinois, said Linda Luchini, the chain's sales manager for deli and bakery.
Luchini has presided over numerous in-store pizza programs since the 1970s, but none has caught on like the Noble Roman's offering. The stores sell 12-inch pies for $5.99 each, or two for $10. The price point keeps the store competitive with $5 pies from Dominos and Pizza Hut.
Lasagna goes for $7.99, and jars of pasta sauce—the slowest seller—go for $5.99 apiece. The pizzas net a roughly 40-percent margin for the grocery stores. The top-selling locations are in Ellettsville and Jasper.
To get the Noble Roman's kiosks up and running, Buehler spent about $250 per store, for signage and a shrink-wrap machine to cover pizzas.
"This one is the best quality, it's very easy, the packaging looks great," Luchini said.
Supermarkets love to stock familiar dine-in brands on their store shelves since the products tend to deliver stronger margins, said Neil Stern, a senior partner at Chicago-based McMillanDoolittle LLP, a retail consulting firm.
On a recent grocery store visit, Stern started taking photos of every restaurant brand he spotted on the shelves. He counted 40, including Cinnabon, White Castle, Boston Market and Taco Bell. Stern noted that California Pizza Kitchen gets 35 percent of its profits from royalties from its line of frozen pies, made by Kraft Foods.
"The trend is moving more toward 'make it' or 'take it,'" Stern said. "The questions are, how do you get the product supplied, what is the value of the brand, and does it help sell for a higher price?"
Besides the obvious revenue, grocery stores get another weapon in the battle for "share of stomach," and the restaurant chains gain brand awareness. The risk for restaurants is that grocery sales could cannibalize dine-in sales.
For Noble Roman's, selling pizzas in grocery stores was born out of necessity. During the recession, fewer families visited Noble Roman's restaurants, and financing dried up for potential new franchisees.
"Our corporate culture is very nimble and can-do," Mobley said. "I think these strengths are what allowed us to respond so quickly to circumstances."
The grocery business is the primary reason investing guru John Gay, who writes The Quiet Investor newsletter, recommended Noble Roman's shares in his February edition.
He believes grocery sales could contribute 15 cents per share in profit, substantially above the roughly 2 cents per share royalties and fees from franchises contribute.
Gay is calling for Noble Roman's shares to triple, from a recent $1.02 per share, in the next three years.
"Pizza is America's national food of convenience," Gay wrote. "To have 500 grocery stores sign up in one year for Noble Roman's new program is a good reflection of this passion, and acceptance by another 500 this year is probably a likelihood."•
Please enable JavaScript to view this content.