The flags waving over the humble 3 in 1 Restaurant (4810 W. 34th St., 543-7770) make clear that the trio referred to in the west-side eatery's name are El Salvador, the United States and Mexico. But while U.S. and Mexican food are well-represented all over the city, it's the El Salvadoran cuisine that drew us to this humble spot.

And it's what will bring us back.

To be sure, there are not a lot of items on the menu. This is not one of those places where every possible combination of the same basic ingredients are organized into combos. Still, I'd suggest first-timers try the Combo ($5.79—including a drink).

Included is a sweet corn tamale, a pupusa (one bite of which may lead you to order more, at $1.50 each), and a steak taco. Many establishments make the mistake of complicating tamale's corn-husk-encased cornmeal. When dipped in the homemade salsa, 3 in 1's version melts in the mouth; not too spicy, not too sweet.

The pupusa (think a less-fully-stuffed gordita), consists of cheese, beans, pork and or chicken enveloped in a thick, soft, corn tortilla. Too often, corn tortillas are either a stiff shell or a crumbly circle. Here, the hand-tossed tortillas taste like someone's El Salvadoran grandmother kneaded together the water and corn masa into these soft, doughy pouches.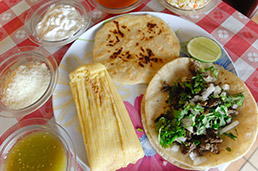 The combo at 3 in 1 Restaurant shows off a trio of deliciously simple items: a sweet corn tamale, a papusa and a steak taco. (IBJ Photo/ Perry Reichanadter)
When our waitress asked if we wanted "everything" on the taco, I was braced for the salad-plus combo that "everything" usually means. But, instead, "everything" doesn't mean the pile-on typical of American versions: The soft, fresh tortilla was simply topped with dark, flavorful steak, cilantro and onions, with lime to squeeze and tomatillo salsa for dipping.

We also ordered Flautas ($2.99 for three) at a price you can't beat for packaged taquitos at a convenient store. Unlike those gut-killers, these crunchy, chicken-filled tubes were crisp without being greasy and covered with just the right amount of cheese to flavor without smothering. Our favorite, though, was the Rigua ($1.50), a sweet corn cake grilled in banana leaves, browning the top and bottom but leaving the rest golden. Despite sharing more than one ingredient with the tamales, the rigua had its own distinct taste with the corn flavor more prominent than in, say, corn bread but not so sweet that it felt like a dessert.

For drinks, you can go with the usual Coke products. But, instead, take a chance on a sweet bottle of Jarritos Tamarind soda ($1.25) or a glass of Horchata ($1.50)—the creamy rice drink that's due for a popularity shot here in the States. No store-bought horchata powder mixing to a slush in a slurpee machine here.

There's a small room for dining in and a lower level to pick up your takeout order. The décor at 3 in 1 is unpretentious-bordering-on-under-construction, the atmosphere is casual, and the service low-key. Getting your terrific lunch for two to exceed $15 will be a challenge. Who can ask for anything more?•

__________

Second in a month-long series of numeric restaurant reviews.