If you were fixin' this spring to jump on Branson Air Express to see the Baldknobbers Jamboree Show in Branson, Mo., you'd better gas-up your pickup, instead.
Branson Air quietly ceased service from Indianapolis in November, after starting $59, nonstop flights two months earlier to the Ozarks entertainment bastion.
When ceasing service, Branson Air expressed interest "in re-engaging with us this spring about renewing Indianapolis service," said Susan Sullivan, spokeswoman for the Indianapolis Airport Authority.
To date, Branson hasn't initiated those discussions, however, she added.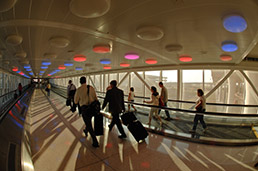 Branson Air Express arrived with much media hype last year but ceased service just a few months later. (IBJ File Photo)
Branson Air officials could not be reached for comment.
The charter carrier, which offered nonstop flights from Indianapolis International Airport four days a week, has over the last several months discontinued service on several of its existing routes. Austin and Dallas now appear to be the only routes from Branson listed on the carrier's website.
Indianapolis Airport officials had estimated that an average of 200 people a day drive from here to Branson, which takes about eight hours. There are other airline connections to the Branson airport, but none are nonstop flights from Indianapolis.•
 
Please enable JavaScript to view this content.