Speculative development is almost unheard of these days, but the Fort Harrison Reuse Authority is taking the plunge as it works toward breaking ground this year on what it expects will be a 45,000-square-foot retail and office building.
The estimated cost of the three-story building at 56th Street and Wheeler Road is $7 million to $9 million.
"We've got a lot of people here who are underserved" by retail, said Kris Butler, executive director of the reuse authority formed in 1995 to redevelop the former army base.
Butler, who lives nearby, said there aren't enough dining options in the area, especially considering the number of people who live and work there.
"I can't take my kids to the two restaurants in the area because they are both pubs," Butler said.
Butler became convinced a project was warranted after Donna Hovey, a retail broker for CB Richard Ellis, was hired to gauge interest.
"We hired Donna to bird-dog for us and find out who might want to go into our first mixed-use project. She found a bunch of tenants but we had no building," Butler said. Café Patachou, Key Bank and Chase Bank are among those that have expressed preliminary interest.
Office space is also in short supply in the immediate vicinity. The reuse authority is negotiating to lease the top two floors of the building to Yeager Properties, a local company that manages shared office suites.
Convinced of the demand for office and retail space, the reuse authority in December approved spending $100,000 for site and design work.
The building will be developed by Browning Investments, which advises the reuse authority on master planning for the base redevelopment. The reuse authority will retain ownership initially, but Butler said her group plans to sell the building.
Jacqueline Haynes, a retail broker and vice president at Cassidy Turley, is among those who think the building is warranted.
"This is a unique trade area that will be attractive to specialty restaurants and boutique retailers," said Haynes, who thinks the redevelopment of Fort Benjamin Harrison into a neighborhood where offices, retail and housing are in close proximity to one another will be a draw.
Tim Norton, executive vice president of Summit Realty Group, was similarly upbeat about the demand for office space. It's rare to find a big office user these days, but the demand could be significant for the small suites that a company like Yeager offers.
The project is to be financed through the sale of revenue bonds. The reuse authority, a quasi-government agency, will pay off the bonds using property tax money captured in a 2,500-acre tax-increment-financing district set up at the same time the reuse authority was created.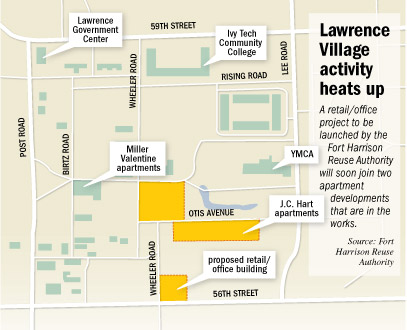 Other projects in the works are a 224-unit apartment project being developed by J.C. Hart Co. adjacent to the site of the proposed mixed-use building and a 45-unit apartment building for seniors.
The developer of the senior housing, Miller Valentine Group, bought the 1.5-acre site for its project from the reuse authority Dec. 30. Hart is buying its 6.6-acre site from the reuse authority for $1.2 million and has an option on two smaller parcels where it might build more housing.
The projects are within a 120-acre area bounded by 56th and 59th streets and Post and Lee roads that is known as Lawrence Village at the Fort. The village was master-planned by the local firm EDEN Design Collaborative.
The retail/office building the reuse authority is developing is within a 50-acre section of Lawrence Village divided into nine building sites that are for sale.
Those sites are all that remains of the 500 acres turned over to the reuse authority in 1995, when the 2,500-acre military base closed. About 1,700 acres of the base were conveyed to the state for Fort Harrison State Park and Golf Course. The federal government retained about 250 acres.•
Please enable JavaScript to view this content.